Bot Trading 101 | How To Apply a Scalping Strategy
Scalping is one of the most profitable forms of trading.
However, it is also one of the most labor-intensive trading styles out there.
Therefore with an automated scalping strategy, you get the best of both worlds: an exceptionally profitable strategy and less work.
Today we will look at what scalping is, how to scalp efficiently, and give you some examples of automated scalping strategies that you can download for free on our platform!
Scalping tips
Scalping is all about making quick, small, and steady gains that add up over time, thanks to the magic of compound interest.
These are short-term intraday trades that usually span from just a few minutes up to several hours.
Wondering when to jump in or out of a trade? Typically, scalpers utilize the 5-minute or 1-minute timeframes to pinpoint their entry and exit points.
Good news! Both of these timeframes are readily available on platforms like Cryptohopper.
But what's the secret sauce for scalping success? A more than 50% win rate. Because your profits from each trade are generally small, a win rate above 50% becomes all the more crucial to your bottom line.
Your risk management will cover your loss-making trades.
So, how do you boost your win rate? Simple—trade when the stars are aligned in your favor!
No really, it means going long when the market is in a bullish phase and stepping out when it's bearish.
But that's easier said than done.
To tell if you're in a bull or bear market, look to trend-following indicators like the Parabolic SAR or MESA, but check them out on a higher timeframe. These could be the 1-hour, 4-hour, or even the daily chart.
Here's a pro tip: Using a combination of two higher timeframes—say, the daily and 4-hour charts—can improve your odds even more.
This way, you're more likely to trade when market conditions are truly in your corner.
Ready to dive into some real-world strategies for crypto scalping? Let's get to it!
Scalping Strategies!
Momentum Trend Scalper
Mixing momentum and trend indicators can give you an unbeatable scalping strategy.
For this approach, we kick things off by using MESA on the 4-hour chart to gauge the overall market trend.
Next, we turn to Williams %R to spot oversold conditions and rely on the crossover between the 1 and 15 EMA to confirm momentum is swinging back our way.
📌 Note: We're using a 15-minute timeframe here because both Williams %R and the EMA crossovers can be rather noisy on a 5-minute chart.
And remember, these indicators won't always sync up, so we've designed the strategy to keep the Williams %R signal active for 5 candles.
Here are some settings you can use:
Take profit 7%

Stop-loss 1%

Trailing Stop loss percentage 1%, arming 1.5%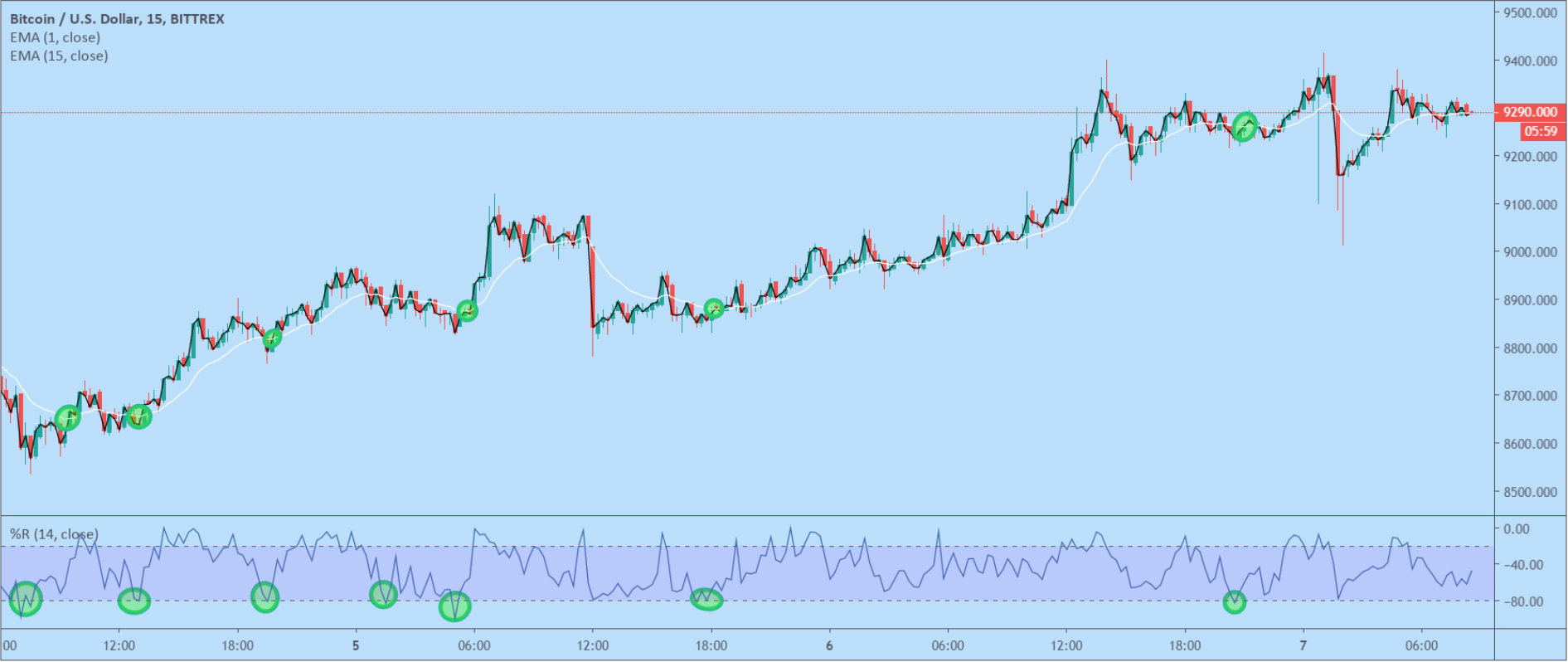 You can download this strategy on Cryptohopper.
Pure Trend Scalping
Our second strategy employs trend-following indicators across multiple timeframes.
We start by checking MESA on both the daily and 4-hour charts to ensure the trend is favoring us.
Then, we move to a 5-minute timeframe and look for a crossover between the 5 EMA and 25 EMA.
Take profit 7%

Stop-loss 1%

Trailing Stop loss percentage 1%, arming 1.5%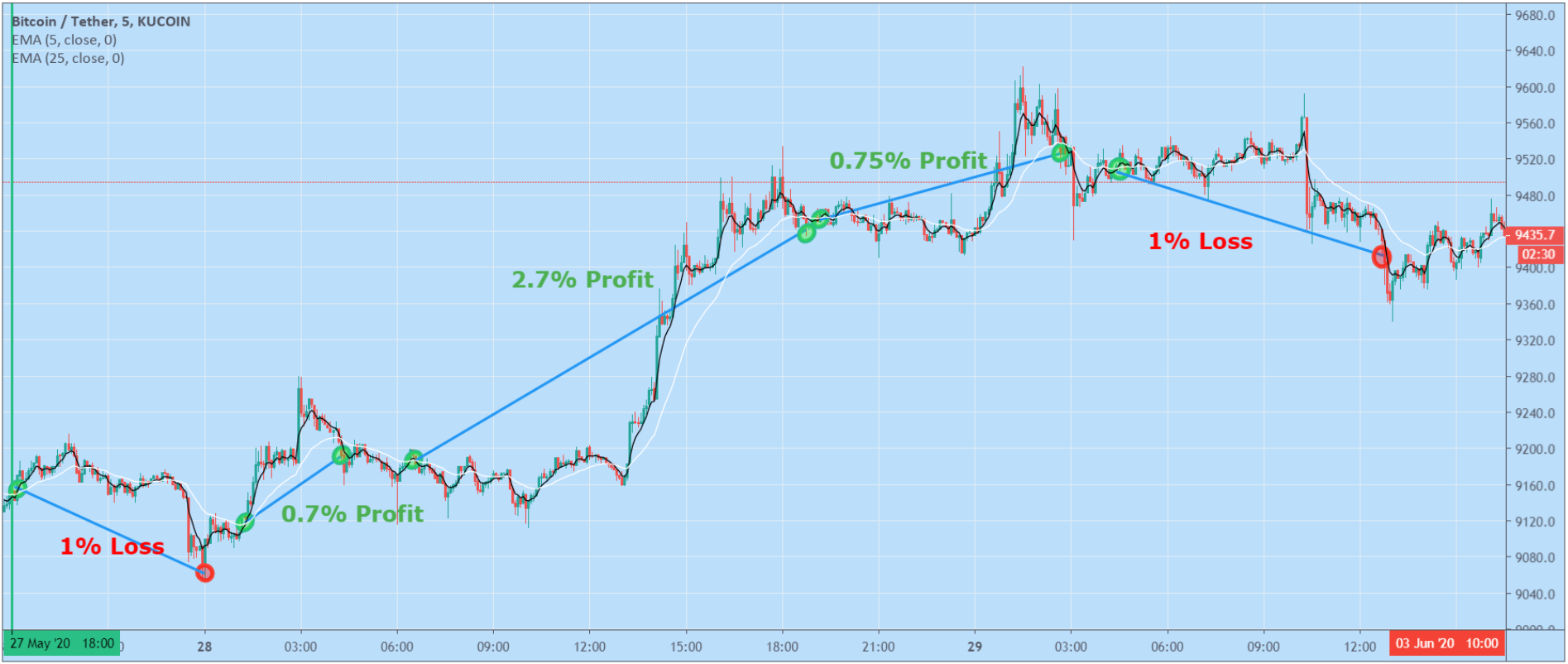 You can download this strategy on Cryptohopper.
Volatile Trend Scalper
Last but not least, let's delve into a strategy we've recently discussed on TradingView.
We again start with MESA on the 4-hour chart for trend direction.
Then we look for a crossover between the 15-50 EMA on the 5-minute chart and an ADX value greater than 20 to pinpoint our entry.
Take profit 5%

Stop-loss 1%

Trailing stop loss percentage 0.5% and arming at 1%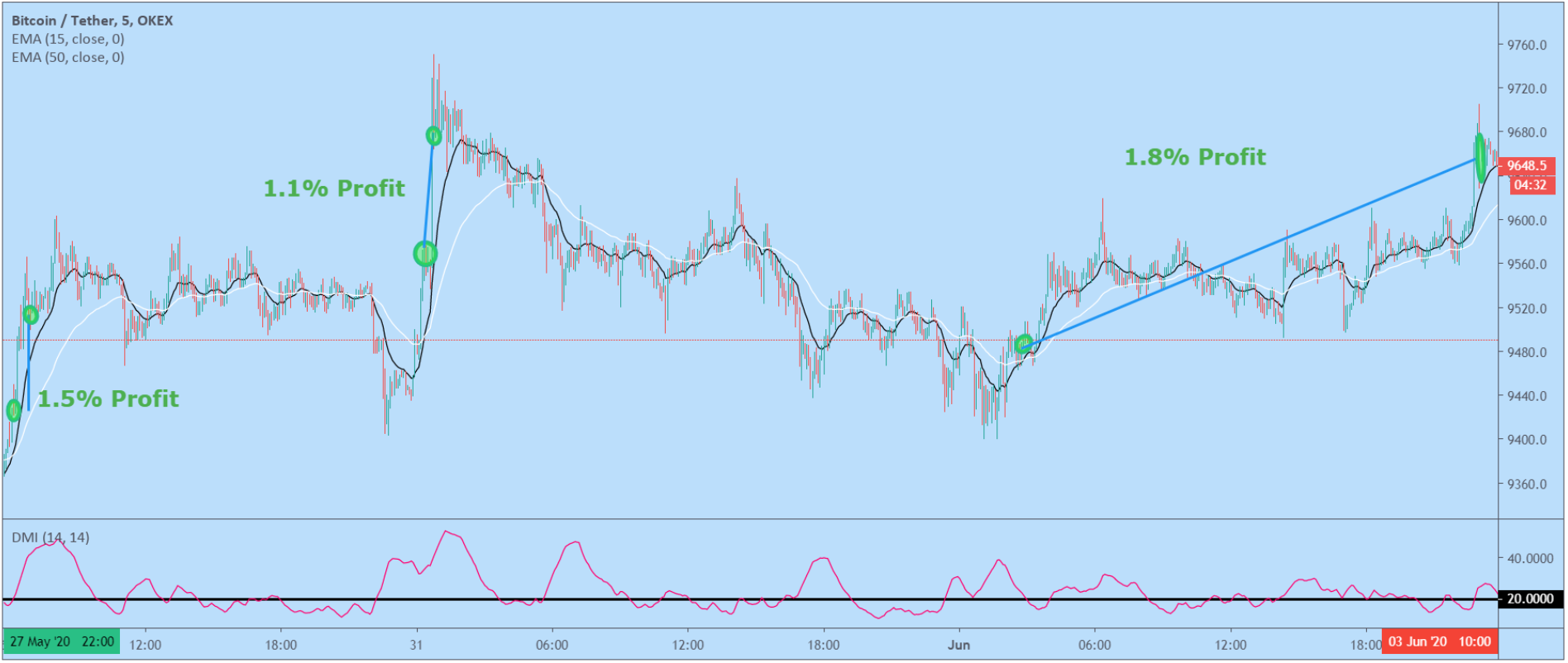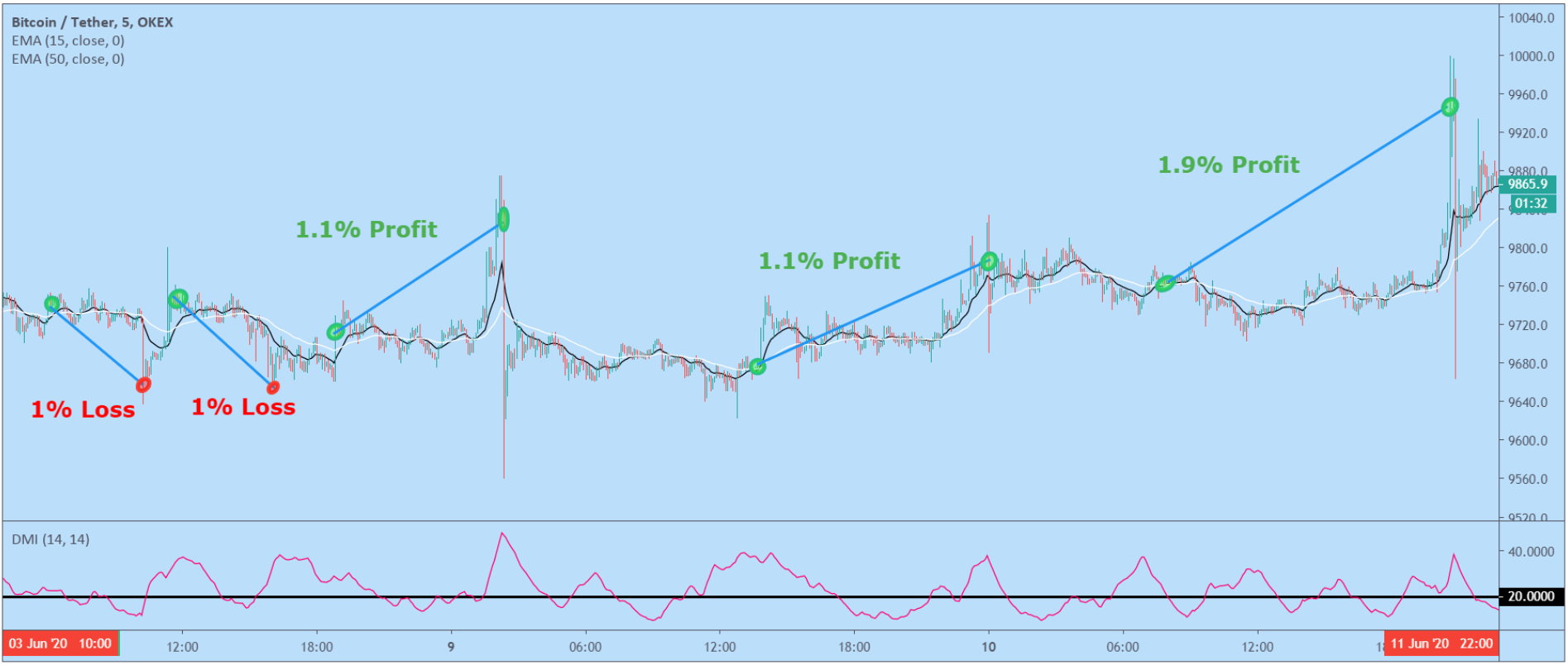 You can download this strategy on Cryptohopper (for Hero Bot subscriptions only).
Conclusion
Scalping can be incredibly profitable when done right.
By focusing on favorable market conditions and smart strategies, you can ramp up your win rate significantly.
Adding trend-following indicators on higher timeframes is a solid tactic, as demonstrated in our examples.
⚠️ Disclaimer: All these strategies are available fully automated on Cryptohopper but haven't undergone extensive testing. We strongly recommend paper trading before diving in.
🛠️ Bonus: Cryptohopper offers a multitude of indicators and settings you can use to tailor your own killer scalping strategy.
Ready to revolutionize your trading game? Get started with Cryptohopper today!