A Quarter by Quarter Analysis of Cryptocurrency Markets in 2021
2021 was been a defining year for the crypto industry at various levels. New trends such as NFTs, the metaverse, Layer 2 scaling solutions, and DeFi 2.0 were all over the news and gained traction from all over the world.
In this article, we analyze the crypto market quarterly to get an overall perspective on the market performance.
---
Q1: The Dawn of New All-time Highs
The first quarter of 2021 was filled with breakthrough events and raised new hopes in the crypto community. The market capitalization of Bitcoin and other cryptocurrencies crossed $2 trillion by the end of Q1 2021, in which Bitcoin itself constituted more than half of the value. This was massive growth compared to the market cap of around $700 billion at the end of 2020.
In Q1 2021, Bitcoin recorded multiple all-time highs in January and February. Tesla bought around $1.5 billion worth of Bitcoin in Feb 2021. However, some major altcoins like Binance Coin, Cardano, and Polkadot overperformed Bitcoin by recording 710%, 555%, and 294% gains respectively. PancakeSwap became the second-largest DEX platform, followed by Uniswap, and its CAKE token surged to more than 28X since the beginning of 2021.
On the other hand, a historical event took place in the NFT industry when Beeple sold his NFT for a massive $69 million at Christie's auction house. As a result, the NFT space has garnered the attention of nascent crypto users and it dominated DeFi in Google search trends. Total NFT art trading volume rose significantly.

Q2: The Rise in Memecoins and Gaming NFTs Popularity
The total market capitalization continued to increase in Q2 2021. When CEO Elon Musk has announced that Tesla would accept BTC payments, Bitcoin increased significantly in value and reached a peak of $64,787 on April 14, 2021.
On the other hand, Ethereum also witnessed several all-time high values and crossed the $2,500 mark at the end of April 2021.
The market stabilized after reaching a peak value of $2.5 trillion in May 2021. However, when Tesla raised environmental concerns at the end of Q2 and halted BTC payments, Bitcoin recorded a 44% decline from its all-time high value and dropped to $35,000.
The second quarter of 2021 was favorable to the meme coins such as Dogecoin and Shiba Inu. Dogecoin led the pack of all meme coins and went to the moon at the start of Q2 2021. It reached a peak of $0.68 in May 2021, which concludes an impressive growth of 366%. Despite not being in the top 5 cryptocurrencies, SHIB token outperformed DOGE with a whopping 11,566,501% growth.
Q2 2021 also saw a significant rise in gaming NFTs like Alien Worlds and R Planet. Axie Infinity's trading volume rose 131x, and its revenue growth also increased 118x in the same period.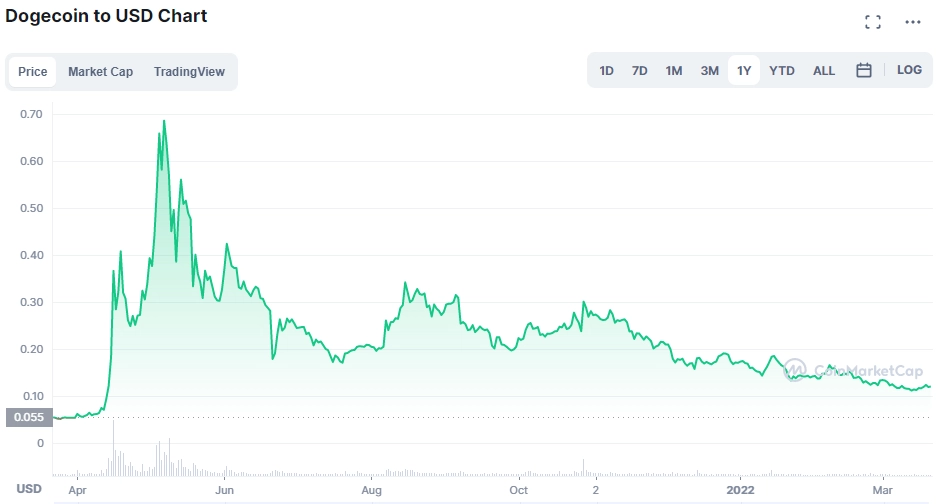 Q3: The New Era - Bitcoin As a Legal Tender
The market capitalization of the top cryptocurrencies recovered in Q3 2021. Bitcoin continued to decline from Q2 2021 to the beginning of Q3. But by the end of Q3 2021, it reached $43,859, a 25% increase within a single quarter.
El Salvador made history by being the first country to accept Bitcoin as a legal tender in September 2021. At around the same time, China clamped down on crypto mining. The People's Bank of China (PBoC) joined hands with 10 other Chinese state authorities to set new rupees to curb the ever-growing adoption of digital currencies.
Institutional investments in Bitcoin continued to rise tremendously in Q3 2021. Tesla acquired around 43,200 BTC in October and the CEO of MicroStrategy, Michael Saylor, added more BTC to the company's reserve.
Solana and Avalanche shot to new heights and had total volume-locked dominance of 6% and 2% respectively while another blockchain network Terra witnessed a 5% TVL dominance.
Gaming tokens rose significantly, with Axie Infinity outperforming all the other tokens and PancakeSwap continuing to maintain its growth. OpenSea continued to be a monopoly and contributed more than 99% of the total NFT trading volume by the end of September 2021. NFT trading volumes reached new all-time highs, which concludes a wider adoption of NFTs in the community.
The long-awaited US futures-based Bitcoin exchange-traded fund (ETF) launched on the New York Stock exchange by ProShares in October 2021 under the ticker BITO. The debut launch was successful, having a massive $1 billion worth of trading volume on the first day alone.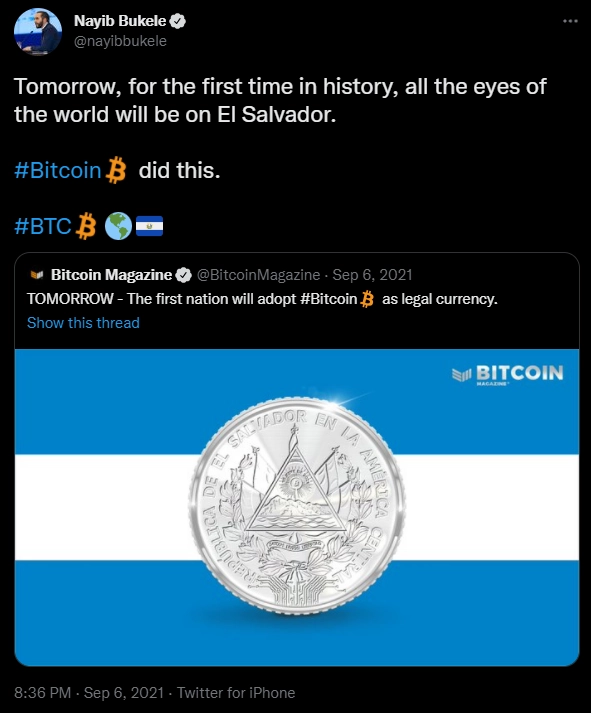 Q4: Virtual Real Estate Boom
Apart from NFTs, metaverse developments have also been a major attraction by the end of 2021. The popular metaverse projects like Decentraland and The Sandbox have increased significantly in value. According to DaapRadar, metaverse real estate has recorded around $100 million sales within one week by the end of November 2021 out of which more than $80 million was attracted by the Sandbox metaverse.
The original cryptocurrency, Bitcoin broke the record and reached a new all-time high value of around $68,000 in November 2021. Meanwhile, Ether crossed a $4,800 mark at the same time which made the community bullish. Besides the largest cryptocurrencies by market capitalization, 2021 has been the best year of altcoins like Solana, Terra, meme coins like Dogecoin and Shiba Inu, and meta tokens like MANA and SAND.
However, the total market cap started to decrease in December 2021 and continued its downtrend in 2022 as well. Bitcoin slid below $50,000 in December and is still having a hard time getting back. Analysts believed that the major reasons for this downward trend are the rise in the number of Covid omicron variant cases and the crypto market's inability to decouple from the stock market.
Despite a little shake of the market in December 2021, from meme tokens to meta tokens and from institutional investments to BTC adoption as legal tender, we have seen tremendous growth in the crypto industry in 2021. Overall, it has been a huge milestone in the history of the crypto world.