Trading With Bitcoin As Quote Currency
Although trading against Fiat pairs is now widely available in the Crypto world, there are still many traders who prefer to trade against BTC instead. Today we will look at the advantages and disadvantages of using BTC as the quote currency, as well as how to identify when trading against BTC is profitable.
Let's start by looking over the advantages of trading against BTC.
Advantages of Trading against BTC
BTC Asset Growth: So far, Bitcoin has proven that to be one of the most lucrative assets in the world. BTC was first priced at 0.003$ when it first went live on the now-defunct Bitcoinmarket.com.
The price reached a peak of $19,500, and even today, it stands at over $8,500, which is still a tremendous growth. Therefore holding an asset that is outperforming every other investment may be very beneficial in the long term.
More Trading Pairs: Exchanges often use BTC as the central pivotal point through which the rest of the cryptocurrencies can be traded.
Although fiat trading has been greatly improved over the last few years, there are still more BTC than USDT pairs in most exchanges.
Fundamentals: Many crypto enthusiasts do not trust the government and financial system; thus, they prefer to have all of their money in cryptocurrencies. BTC is a lot more transparent than the economic system, and it is also decentralized. People concerned for their privacy will trade in BTC and use BTC to pay their bills wherever possible.
Let's continue by looking at the other side of the coin, the disadvantages of trading against BTC!
Disadvantages of Trading against BTC
BTC Asset Growth: The first point of the last section and one of the most crucial selling points of the currency is its high potential.
However, this is a double-edged sword. If BTC continually outperforms all the other altcoins, it will be harder to profit as you will be trading against the trend.
Dollar Value Fluctuation: Trading with BTC as the quote currency will see the $ value of your account fluctuate considerably. Should you trade with BTC as your quote currency, you should look at the BTC you are accumulating rather than the dollar value of your account, which fluctuates daily due to Bitcoin's volatility.
Less trading volatility: The general crypto market is synchronized with Bitcoin; as such, when BTC drops, so does the rest of the market.
As the coins are all moving in the same direction, there will be less volatility of trading between them. For example, if BTC rises by 7% and ETH rises by 10%, ETH will have risen only 3% against BTC.
So how do we tell when it is profitable to trade against BTC? That's what we will explore in the next section?
When Is It Profitable To Trade Against BTC?
Generally, day-trading against BTC becomes profitable when the daily MESA or another trend following indicator indicates bullish momentum.
It is much easier to make a profit trading ETH against BTC when Ethereum is pushing up over 50% in a month than it is when it crashes by 50%. Other indicators that can work here are the Ichimoku Cloud, the Crossover between the 5 and 25 EMA, KAMA, etc.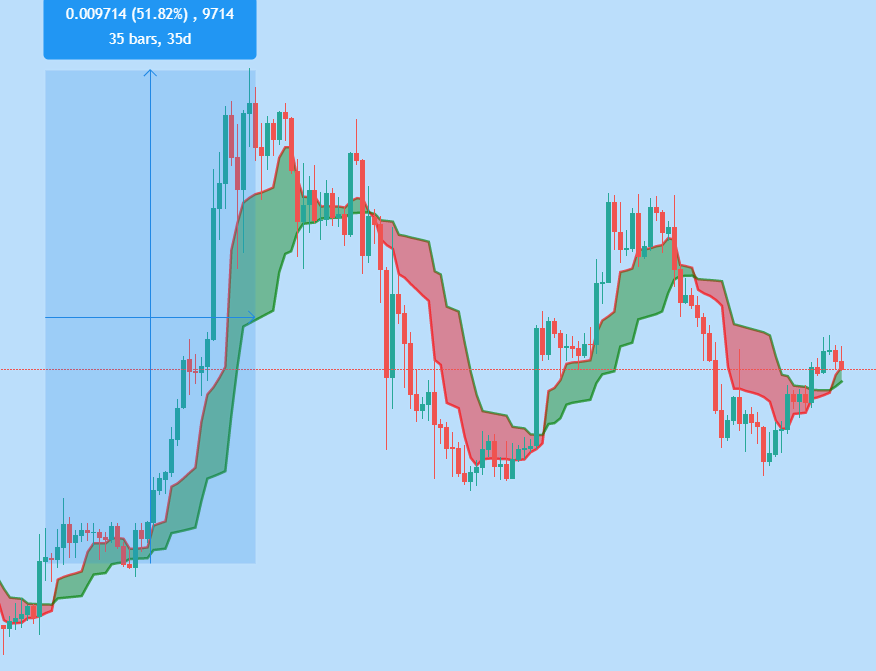 You can use the MESA as a filter to ensure that you are only trading when the altcoins are outperforming BTC.
This way, you will trade less, but your trades will be of higher quality, and your winning percentage will increase.
Some examples of strategies that you can use on the 1h or 4h timeframe together with this MESA filter can be:
Parabolic SAR + MACD: This is a momentum + trend strategy that uses the Parabolic SAR and the MACD to find out when the trend and momentum are in your favor.
You can then set up your trading system to sell when the Parabolic SAR is no longer bullish. This way, you can ride the trade all the way to the top. We have created a full analysis of this strategy here.

Parabolic SAR + ADX: This is a volatility + trend strategy that uses the Parabolic SAR + the ADX to find out when the trend and volatility are in your favor.
On their own, trend-following indicators can work very well when the market has a clear direction but perform very poorly when the market is ranging. However, adding a volatility indicator such as the ADX will filter out trades during ranging markets. We have created a full analysis of this strategy here.

Conclusion
Trading against BTC can be very lucrative, but it can also be risky due to the asset's fluctuation.
If you can make a profit while BTC increases in value, your account will grow even faster. However, at the same time, it is also harder to consistently make a profit if BTC keeps on outperforming every other asset out there.
It is far easier to make a profit when the trend is in your favor, adding a MESA on the daily chart can ensure that you are always trading with the trend in your favor. One of the two strategies displayed above can then be used to find solid entry points in these trends.
All of the indicators required to make these strategies are available at Cryptohopper, along with many more. Join us today to take full advantage of them and make your BTC trading fully automated!