Trading IMX in a Ranging Market
Let's see how you can trade IMX in a ranging market successfully!
What is ImmutableX IMX? ImmutableX IMX is the native cryptocurrency of the ImmutableX platform. ImmutableX is a layer-2 scaling solution for Ethereum, designed to offer fast and secure trading of non-fungible tokens (NFTs). ImmutableX uses the Ethereum network for security and settlement but offloads the heavy lifting of transaction processing and validation to its own layer-2 solution. ImmutableX aims to be the fastest and most secure way to trade NFTs on the Ethereum network.
IMX's performance in 2022: IMX has had a good year so far, increasing about 200% since the start of the year. However, it is currently caught between two levels, which makes it an excellent candidate for range trading.
Trading with the Relative Strength Index (RSI) indicator
The Relative Strength Index (RSI) indicator is a momentum oscillator that measures the speed and change of price movements. It is used to determine when an asset is overbought or oversold. The RSI is usually an excellent choice to use on coins that are ranging.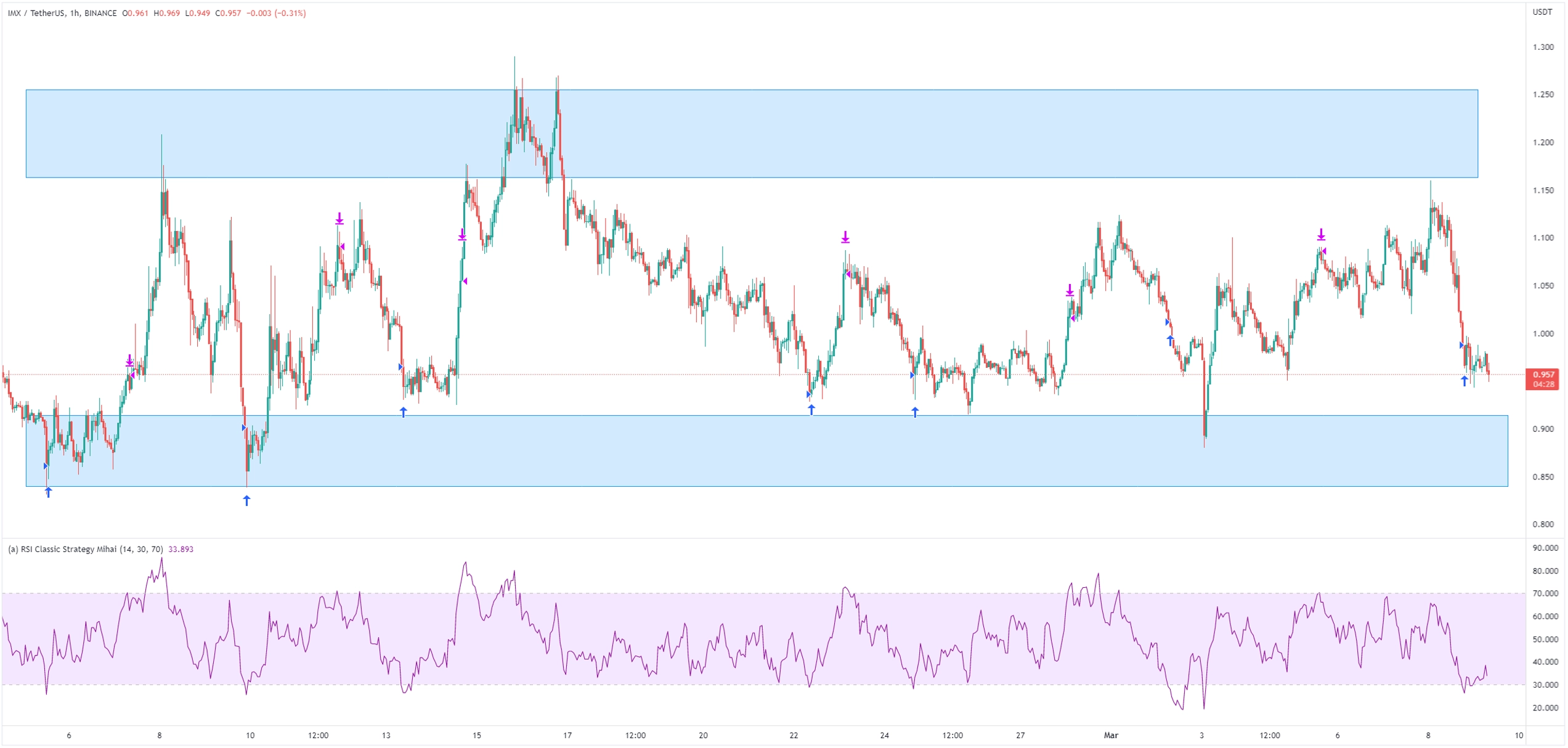 In this chart above, we traded with the RSI on the 1-Hour chart with the basic settings of Period 14, buy when the RSI is below 30 and sell when the RSI is above 70. This setup brought a profit of 89% since February 1st. This indicates that range trading with the RSI indicator can be a profitable strategy for IMX.
Disclaimer: Please take into account that the RSI works well when the market is ranging. When the market is in a downtrend, it will start working significantly worse.
Bottom Line: IMX showed significant growth in 2022, and is now ranging. The RSI indicator is a useful tool for trading IMX in its current-ranging market. should prevent the price from experiencing a major downturn.