Crypto.com Alpha Navigator Quest for the month August
in this month's latest issue of Alpha Navigator, our institutional-focused report for the month of August by our official partner Crypto.com.
---
Macro view

Asset class performance

Asset Class Correlations (BTC)

Derivative Pulse (only first one)

Fund flow tracker

Fund flow tracker continued

Gaining momentum

Gianing momentum (cont)

NFT: Eye of the Beholder

Event driven
Macro View: Rallying through Rate Hike; Remain Cautious
The U.S. Fed raised rates by 75 bps last week, in-line with market expectations. While interpreting 'Fed speak' often is challenging, markets latched onto Fed Chairman Powell's message of potentially decelerating the pace of rate hikes. As of 1 Aug, the S&P 500 is up 2.7% since the rate hike, with BTC up 1.7% and ETH up 3.2%.

Despite the rally in risk assets, they may not be out of the woods yet. All eyes will be on the U.S. CPI print come 10 August, as the Fed has signaled its actions will be data dependent. Also, recession risks are elevated - with the U.S. in technical recession according to some yardsticks after last week's advance Q2 GDP print - and it remains to be seen whether the Fed can engineer a soft landing.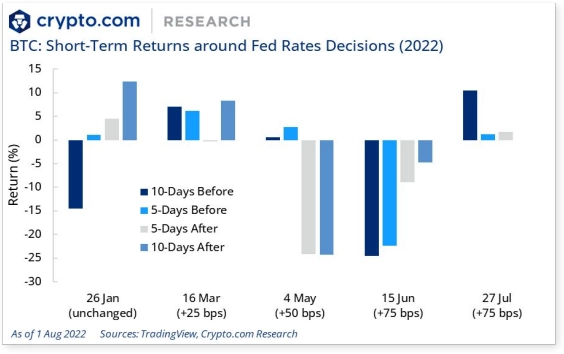 Asset Class Performance
The majority of risk assets rallied during the past 1-month period, but remain in drawdown territory over longer timeframes. The best 1-month performers were BTC and ETH, which rose +10.40% and +37.07%. respectively.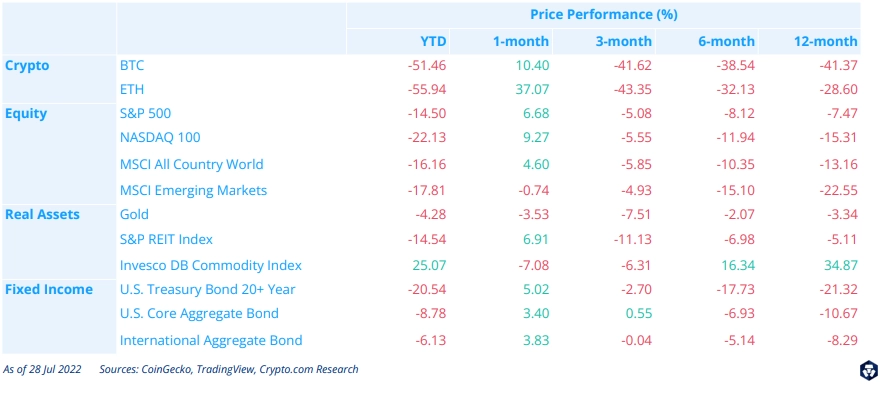 Asset Class Correlations
BTC continues to show positive correlations with other asset classes, and in particular with equities across the board.

Derivatives Pulse
Put-call ratios for both BTC and ETH have been falling recently, signaling a shift to more positive sentiment.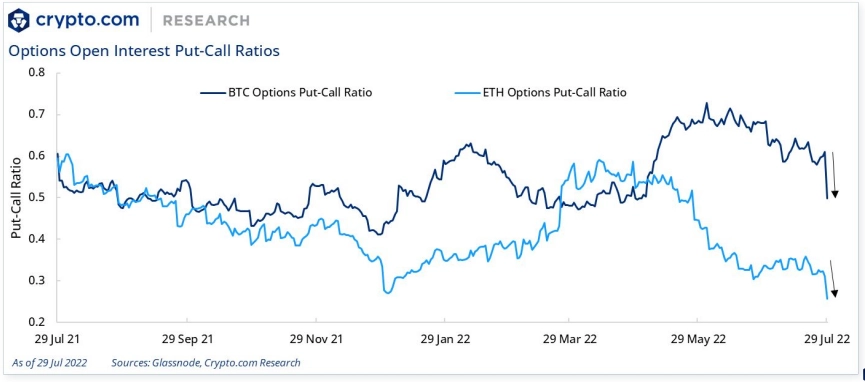 Fund Flow Tracker
Aggregated exchange balances for BTC and ETH have fallen over the past 1-month, implying a shift towards stronger inclinations to hold. The past month saw net outflows of 27.4K and 345.4K for BTC and ETH, respectively.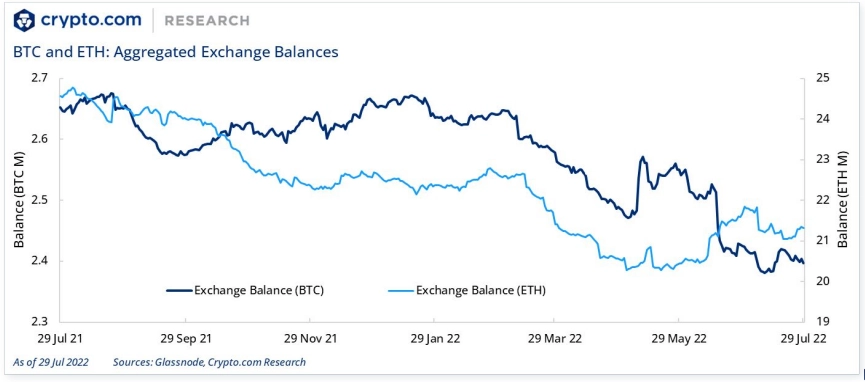 Fund Flow Tracker (cont.)
Despite a few sharp spikes, BTC balances held on OTC desks have been drifting down since end-May, potentially indicating strengthening inclinations to hold by larger investors.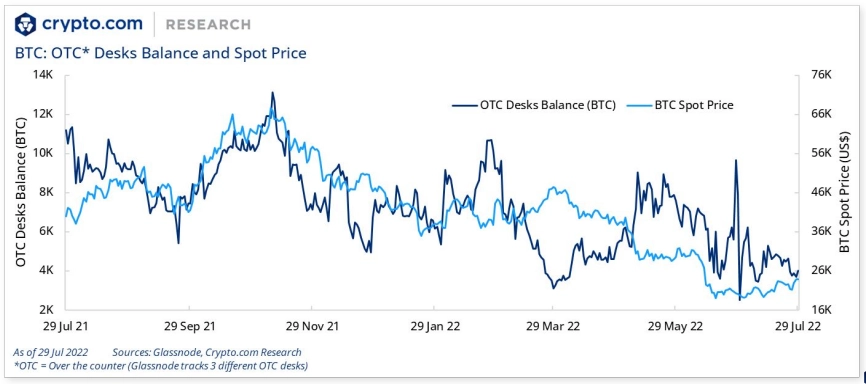 Gaining Momentum
Crypto is rallying along with other risk assets. BTC and ETH are up 10.4% and 37.0% in the past 1-month (as of 28 July), respectively.

Our Momentum Basket contains the top 15 tokens ranked by 1-month price performance, selected from the top tokens by market cap in each of the Layers 1 & 2, DeFi, GameFi, and NFT categories.

The average performance of the tokens in the basket was +56.6% during this period compared to 37.0% for ETH and 10.4% for BTC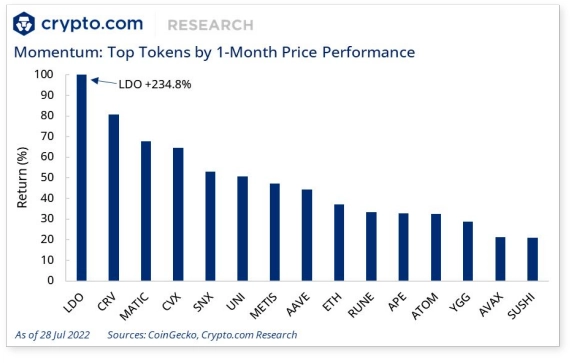 Gaining Momentum (cont.)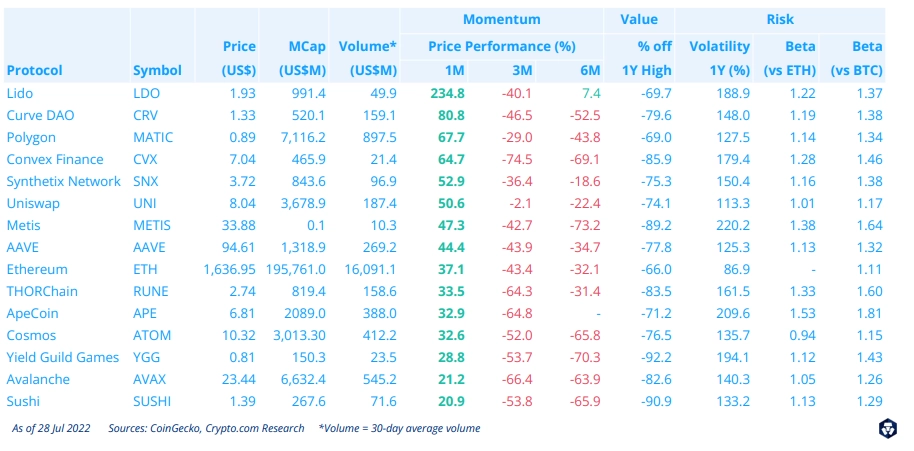 Event Driven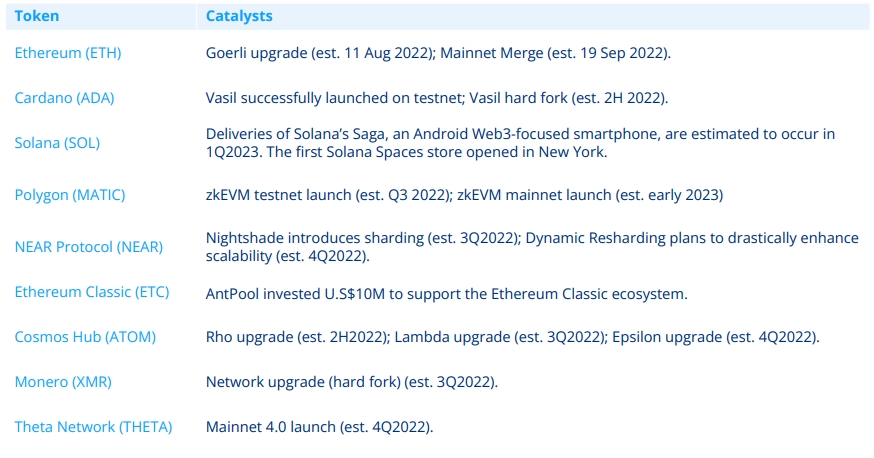 Create a Crypto.com account and start trading on Cryptohopper.
Read the full report here.
RESEARCH DISCLAIMER
The information in this report is provided as general commentary by Crypto.com and its affiliates, and does not constitute any financial, investment, legal, tax, or any other advice. This report is not intended to offer or recommend any access to products and/or services. The views expressed herein are based solely on information available publicly, internal data, or information from other reliable sources believed to be true.
While we endeavour to publish and maintain accurate information, we do not guarantee the accuracy, completeness, or usefulness of any information in this report nor do we adopt nor endorse, nor are we responsible for, the accuracy or reliability of any information submitted by other parties. This report includes projections, forecasts, and other predictive statements that represent Crypto.com's assumptions and expectations in light of currently available information. Such projections and forecasts are made based on industry trends, circumstances, and factors involving risks, variables, and uncertainties. Opinions expressed herein are our current opinions as of the date appearing in this report only.
No representations or warranties have been made to the recipients as to the accuracy or completeness of the information, statements, opinions, or matters (express or implied) arising out of, contained in, or derived from this report or any omission from this document. All liability for any loss or damage of whatsoever kind (whether foreseeable or not) that may arise from any person acting on any information and opinions contained in this report or any information made available in connection with any further enquiries, notwithstanding any negligence, default, or lack of care, is disclaimed.
This report is not meant for public distribution. Reproduction or dissemination, directly or indirectly, of research data and reports of Crypto.com in any form is prohibited except with the written permission of Crypto.com. This report is not directed or intended for distribution to, or use by, any person or entity who is a citizen or resident of, or located in a jurisdiction, where such distribution or use would be contrary to applicable law or that would subject Crypto.com and/or its affiliates to any registration or licensing requirement.
The brands and the logos appearing in this report are registered trademarks of their respective owners.