Crypto Projects Explained - DigiByte
According to CoinMarketCap, there are currently more than 7,000 coins and token projects. Many traders know that not all crypto projects are legitimate, and as in regular business, only around 1 in 10 will become a success.
---
Therefore, we here at Cryptohopper decided to start a new series that aims to explore these projects: the problems they want to solve, the solutions they offer, their plans for the future, and the trading info that can be useful for your own research.
Let's Get Started with DigiByte!
Jared Tate , founded DigiByte (DGB) in 2014 . His vision was to create a better version of Bitcoin as there were no solutions back then to increase the number of transactions per second (TPS) and improve transaction speed. Bitcoin's transactions per second is about 7, while the transaction is usually confirmed in 10 to 60 minutes.
Jared Tate is not the sole force behind DigiByte. DigiByte is notable in the thousands of volunteers that helped build DigiByte. Unlike many other token projects, there has never been fundraising, such as an ICO. No CEO or company controls the DigiByte Blockchain.
The DigiByte Solutions
DGB began as a currency, but many new applications have been added to the DGB ecosystem over time. DigiByte has five pillars: Currency, Proof of Authenticity, Secure Authentication, DigiAssets, and RenLiquidity.
1. Currency
DigiByte first started as a currency to be used as a means of payment. DBG accomplished its initial TPS and transaction speed goals – DigiByte currently processes up to 1,066 TPS, which are confirmed in approximately 15 seconds.
Compared to 21 million Bitcoin, 21 billion DigiByte (a 1,000:1 ratio to BTC) were created to provide for mass adoption. Rather than halving every 4 years, DigiByte block rewards reduce by 1% every month. All 21 billion DigiByte will be mined by the year 2035. After 2035, miners will rely on transaction fees alone.
2. Proof of Authenticity
To focus on proof of authenticity, DigiByte utilizes the VIDT API. VIDT is a blockchain-powered technology that verifies the validity of any file. VIDT confirms the identity and origin, and guarantees that the content is exactly the same as the initially-published document. The VIDT API is also used by blockchains such as Hyperledger and LTO, which means that documents can be verified on multiple blockchains. In short, V-ID (link) is a protection against fraud and data manipulation.
AmSpec, a global leader in oil and gas inspection, is already using proof of authenticity on the DGB blockchain. AmSpec produces more than 50,000 inspection reports each month for most of the major petroleum refiners and traders, utilizing DGB's system.
3. Secure Authentication
The DGB Wallet can be used to log in to websites quickly and securely without having to remember your username of password. You can simply scan a QR code on your phone and the DGB wallet will do the rest.
Together with DigiByte, Antum ID developed a password generator on the DGB blockchain. Simply use one QR code to log in to all your domains.
4. DigiAssets
DigiAssets is a secure, scalable secondary layer on top of the global DigiByte blockchain that enables the decentralized issuance of assets, tokens, smart contracts, digital identity, and more. DigiAssets can be used to represent real-world assets securely and cryptographically, from real estate and automobiles to art and music. Additionally, signed documents such as wills, deeds, and purchase orders to medical bills can be protected as DigiAssets.
5. renDGB
DigiByte is currently developing their renDGB project to ensure Republic Protocol (REN), another token project, connects DGB with Ethereum and enables DGB to be included in many DeFi projects, which improves DGB liquidity. As liquidity is required for a constant supply and demand chain, the project is predicted to stabilize DGB's value over time.
Roadmap
Because DigiByte is built by volunteers, they do not commit to completion dates for their projects. However, it is always possible to track their developments. You can even join them! Earlier this year, DigiByte formed a DGB foundation to further promote the use cases of DGB and raise funds to ensure the continuation and expansion of the DGB ecosystem.
DGB is a Great Investment in 2020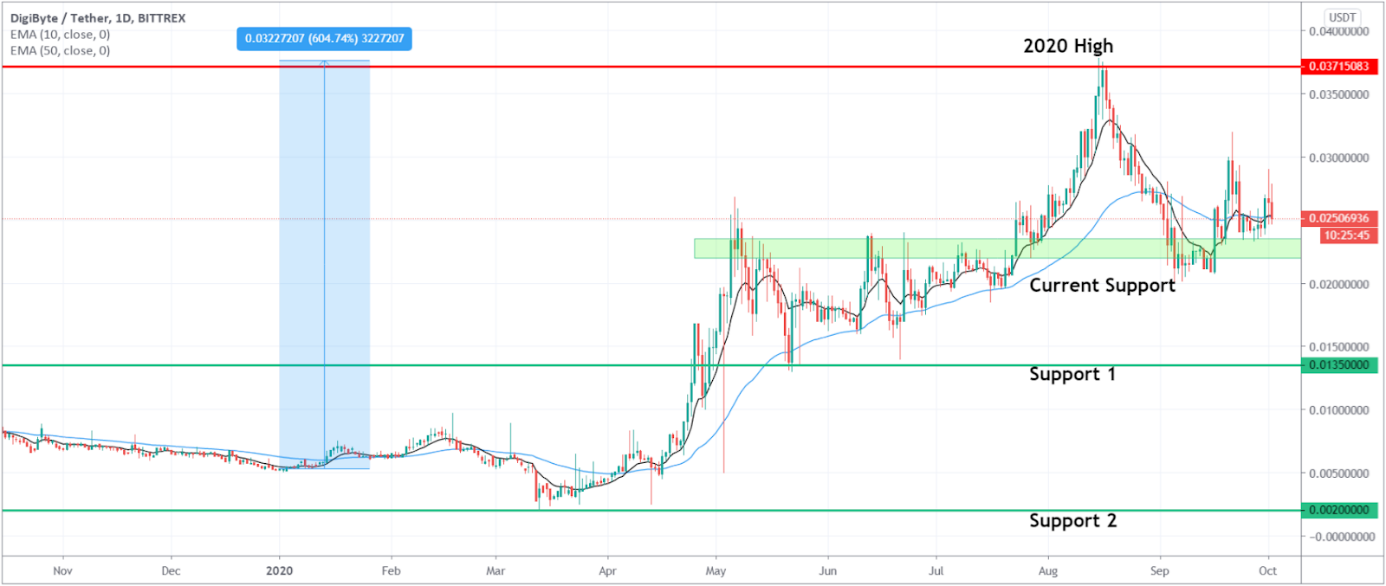 Digibyte (DBG) has been one of the most profitable investments this year. The coin grew by more than 600% from January 1 to August 13, when it reached $0.0376. The coin then fell with the overall market at the beginning of September but found support between $0.0235-$0.022.
If the overall market experiences a bear trend, then we can expect it to fall to $0.0135. This level held as support throughout the summer months and caused DGB to rebound several times.
In the case of a severe correction, we could see the price fall to $0.002, where it rebounded following the March crash. However, such a severe correction is less likely to happen at this moment.
One of the best indicators for determining a coin's long-term trend is the crossover of the 10 and 50 EMA. When the 10 EMA crosses over the 50 EMA, a bullish trend is expected, and when the 10 EMA crosses under the 50 EMA, a bearish trend is expected. This strategy can provide multiple fake signals in a ranging market (as it is the case right now); however, it is also great at identifying long- term trends.
In general, DGB falls for prolonged periods, then has sudden short but aggressive bull runs. These short bull runs look like the "bull flag pattern," where the asset rises very quickly and then stays at that level for a while or drops slowly over time. The 10 and 50 EMA is usually great at finding these quick uptrending markets but sometimes fail to take profits at the right levels. Therefore a trailing stop loss may also work well on this coin.
Want to learn more about DigiByte? Check out DigiByte's webite or have a look at DigiByte's Telegram Channel
Special thanks to Rudy Bouwman, Secretary and Vice Chair of the DigiByte Foundation.
Do you want your token project to be covered in Cryptohopper's blog series? Email Us