According to a 2021 study by Statista, there are about 3 billion people in the world who game. That's about 40% of the world's population. What exactly entices people to game? And how can blockchain technology improve on that experience?
Some people might game to escape. Gaming in the metaverse would take that to a whole new level.
Some might game to collect in-game items and show off their achievements. NFTs within games make that ownership REAL.
And then there is the whole new experience that blockchain gaming provides: Play-to-earn. As someone fills in time on the subway during their morning commute, they can earn crypto as they game. Another person might want to back a project, but has more time to give than money to invest. And yet another may just want to boast to their friends about the unique item they earned.
This is the multi-dimensionality that GameFi can provide, and it's why people are paying attention.
TL;DR
GameFi, a portmanteau of Gaming and Finance, allows the gaming experience to be monetized. For players, it's a way to earn and gives a deeper experience. For gaming/blockchain companies, it can be a way to scale and build out an ecosystem.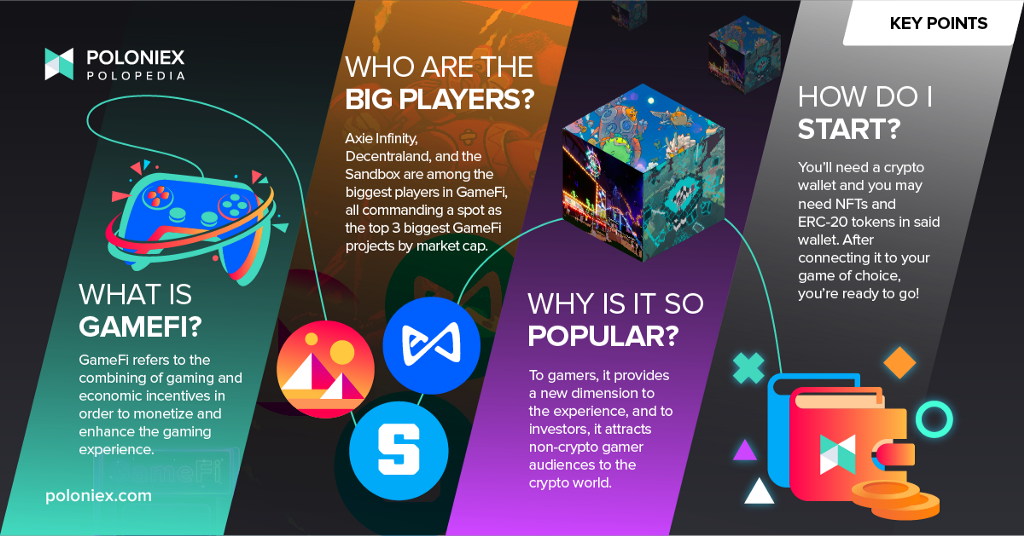 How does Play-to-Earn work?
The Play-to-Earn mechanism in blockchain gaming is one of its main selling points and paths to scale. P2E takes the already popular concept of having players collect in-game items and gives those items real-world value. Not only can players now collect potentially valuable assets in-game, they can also earn crypto currency based on completing tasks, getting achievements, climbing the ranks or merely spending time in-game. In short, players can monetize their own gaming experience. For the GameFi companies themselves, having more of their in-game tokens being used makes it more valuable.
In-game economy
If you're not familiar with the concept of an in-game economy, here it is: the flow of resources from game to player and player to player.
The Play-to-earn model is a huge defining point of a blockchain game's in-game economy, as it creates a way to distribute resources to players.
GameFi projects might also incorporate elements of DeFi, or decentralized finance. This means that players would be able to lend their assets to a liquidity pool, or stake a game's native token for yield.
So how does this in-game economy benefit a project? Depending on the organization of the economy, a project may merely seek to use the game as an avenue to distribute their currency and have its value rise with use. A project may also require users to pay in order to unlock the ability to earn higher value assets, in the case of GameFi project Illuvium .
Why all the interest?
For starters, GameFi provides a way to distribute tokens to its users. And many of its users may just be gamers, not necessarily crypto enthusiasts. As it stands, crypto is still on the left side of the adoption curve, but concepts like GameFi can provide a bit of jet fuel in the push towards mass adoption. For this reason, among others, GameFi has recently become very popular for investors.
And among gamers, GameFi means that they truly own the assets they earn in-game. These assets have real-world value and can even be transferred to other games. It is also one of the easiest ways to get into crypto for someone who is curious but risk-averse. Not to mention, because players can earn tokens that might rise in value, there is a strong notion that playing now, getting in on the ground floor so to speak, will pay out nicely in the future, hence the rush towards GameFi.
Popular projects in GameFi
To help understand what GameFi is and how it is manifesting, let's briefly go over some projects within the space that are leading the charge!
Axie Infinity
Axie Infinity is a game where players can breed, trade, and battle with creatures called Axies. Ownership of these characters is expressed through NFTs. It is one of the first popular blockchain games and is a proof-of-concept that the Play-to-Earn model can attract players en masse.
Axie Infinity has become one of the biggest projects in GameFi, with players flocking to the game to play and earn valuable NFTs. Currently, it sits at number 3 in terms of market cap for GameFi projects, behind the Sandbox and Decentraland.
Axie's native tokens are AXS and SLP.
Illuvium
Illuvium, an open-world fantasy game, has been gaining steady popularity, in part because of its ambitions to provide a high-quality gaming experience as well as provide DeFi features such as liquidity mining.
With its aim to become the first AAA blockchain game, Illuvium has been garnering a healthy amount of attention, and investment.
Illuvium's native token is ILV.
The Sandbox
In the Sandbox's case, its aims are to not only provide a gaming experience, but a metaversal ecosystem as well. With its outlook to not only blockchain gaming but DeFi and the metaverse, the Sandbox has gained a lot of traction, landing it its current #2 spot amongst Play to Earn games on CoinMarketCap.
The Sandbox's token is SAND, and ownership of its digital real estate is expressed through NFTs called LAND.
YGG
YGG, or Yield Guild Games, has recently turned heads after receiving funding from investing firm Andreesen-Horowitz. Standing for Yield Guild Games, the project is a DAO, or decentralized autonomous organization focused on investing in NFTs so that guild members (members of the DAO) can better monetize their in-game assets and experiences.
Yield Guild Games's native token is YGG.
The metaverse connection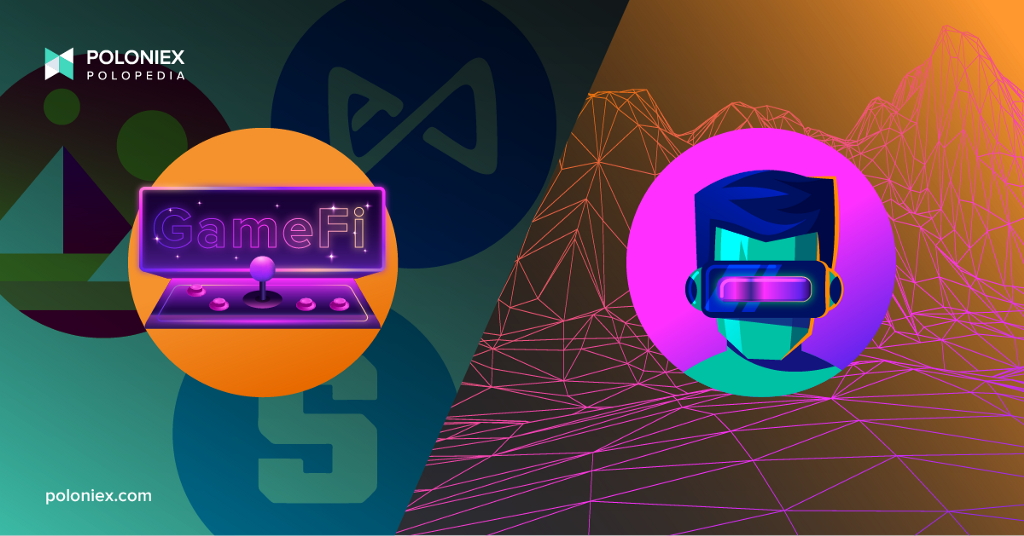 If being able to gain real-world value from a game wasn't mind-blowing enough, imagine being able to easily transfer in-game items, skins, characters, etc. from game to game. For blockchain games that exist within the same metaverse (a virtual, blockchain-powered world), that is a reality. And its what projects like the Sandbox and Decentraland are building out. With the metaverse, you not only have a place to earn, but a robust marketplace and social network to game, talk, and trade with.
As mentioned in our article about the metaverse, gaming incumbents such as Microsoft and Sony are taking a close look at the metaverse, forming -together with other big players in the industry- the XR Association.
So it's no doubt that there is some real firepower driving forward the development of the metaverse and its GameFi component.
DeFi + GameFi
DeFi and GameFi concepts not only overlap in their emphasis in true asset ownership and decentralization, but some GameFi projects also include DeFi services. For instance, Axie Infinity allows users to stake their native token, AXS, to earn yield. In the Harmony blockchain-based game DeFi Kingdoms, users can take advantage of its DeX and liquidity pool features.
So beyond playing and completing in-game tasks, players can earn by utilize DeFi services as well.
Where to start in GameFi?
Most GameFi platforms require a wallet in order to store in-game assets, so some good options are MetaMask, WalletConnect, or Coinbase Wallet. After signing up for one, you can connect your wallet to the game.
Most games require you to buy necessary NFTs such as characters or items to start playing. For example, Axie Infinity requires you to buy 3 Axie NFTs to begin playing. What this means is that you will need an exchange like Poloniex in order to convert fiat into ETH or another ERC-20 token to buy the NFTs in, in this case, Axie Infinity's marketplace. After that, you're ready to play and ready to earn!
And investing in a GameFi project is easy as well! On exchanges like Poloniex, you can trade tokens like ONSTON, GMT, RACA. You can sign up here to enter into the world of blockchain gaming!