With this launch, it's now more convenient for you to take advantage of zero fees on Binance P2P. This also unlocks more opportunities for buying and selling Bitcoins in Africa, especially compared to the prevailing profit margins of between 1%-3% for P2P trading in Africa.
The FNB e-wallet is the first platform of its kind to offer instant cross-border mobile money transfers in Africa. You can add your FNB e-wallet on Binance as a payment method and send money to your friends or family in South Africa with zero transaction fees.
You can post trade ads to buy and sell cryptocurrencies or trade directly with other users. Now with the integration of FNB e-wallet, you can smoothly exchange your local currency for crypto in your P2P trades, safeguarded by our escrow service.
Buy Bitcoins in South Africa using FNB e-wallet on Binance P2P
Before you trade, you need to log in to your Binance account, and make sure that you have completed Level 2 identity verification. This will help to create a high level of security for your investment and protect your account on the market. If you are not a Binance user yet, register for free and create one in minutes.
Here's how you can add the FNB e-wallet as a payment method:
1. On the app homepage, click on "P2P Trading" Click on the "···" icon on the top right and choose "Payment settings."
2. Click on  "Add a new payment method". Choose "FNB e-wallet" from all the available payment options, and click to enter your detailed payment information. Then click on "Confirm."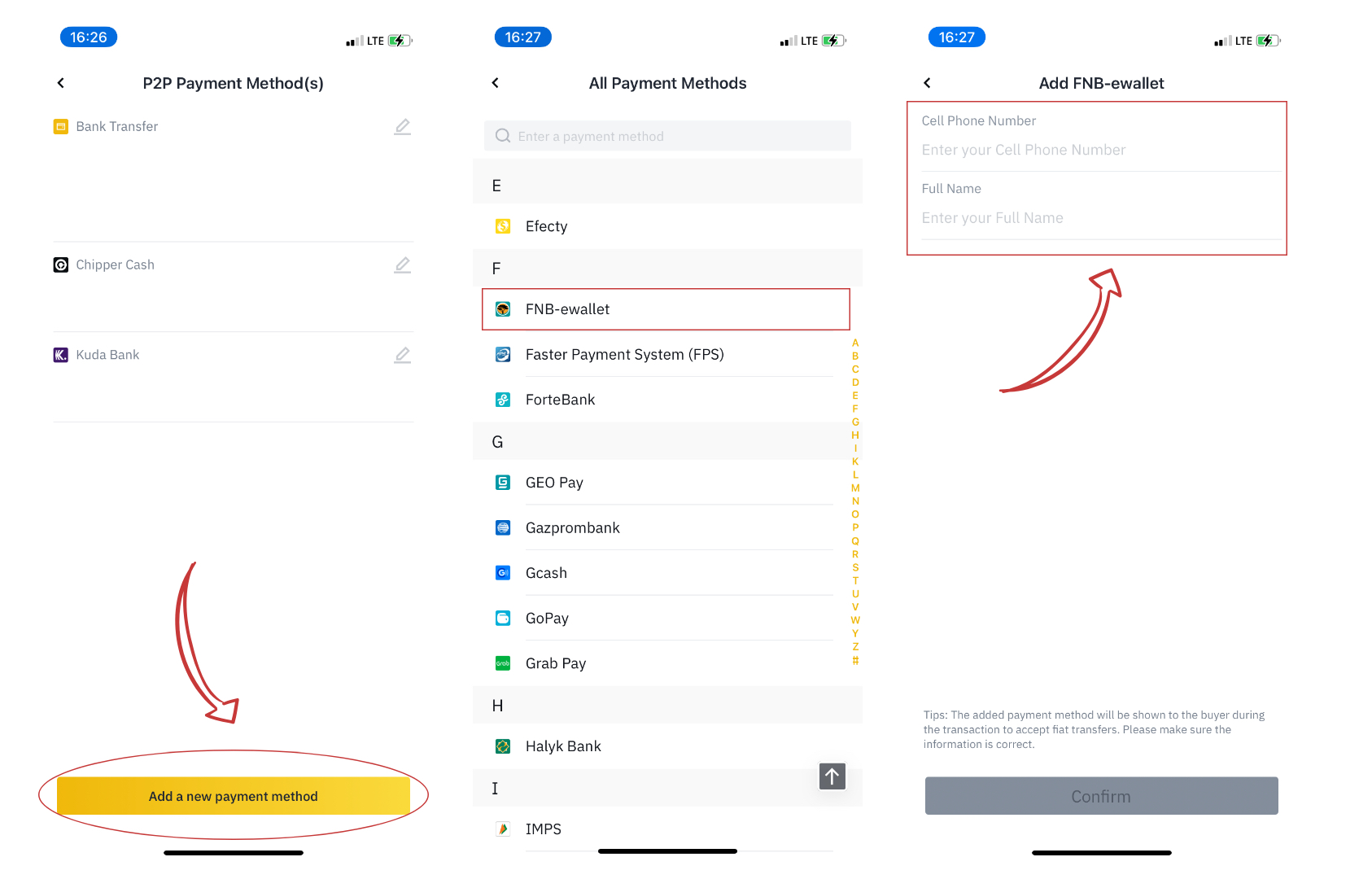 Now you are ready to trade. It takes only three steps to buy Bitcoin with FNB e-wallet on Binance P2P.
Step 1: Specify search criteria
Open the Binance App. Click "P2P Trading".

Choose the Buy tab and select BTC. Click the filter icon at the top right of your screen.

Select the FNB e-wallet payment method and the ZAR currency to buy the crypto. Then, tap on confirm.
Step 2: Start trading
Choose the offer that works best for you and enter the quantity you want to buy, select a payment method, and click on Buy BTC.

Transfer the money directly to the seller based on the seller's payment information provided within the payment time limit. You can use the chat box to communicate with the seller.

Make sure that you send the money to the seller and tap on Transfer next.
Step 3: Receive your Bitcoins
Tap on "Confirm". Please do not click "Confirm" if you have not made any transactions. This will violate the P2P User Transaction Policy.

The status will be updated to "To be released"

Congratulations! You have completed a trade. Now, get your Bitcoin!
Watch this video tutorial for full details on how to buy bitcoins on Binance P2P via the Binance mobile app. And start a trade now!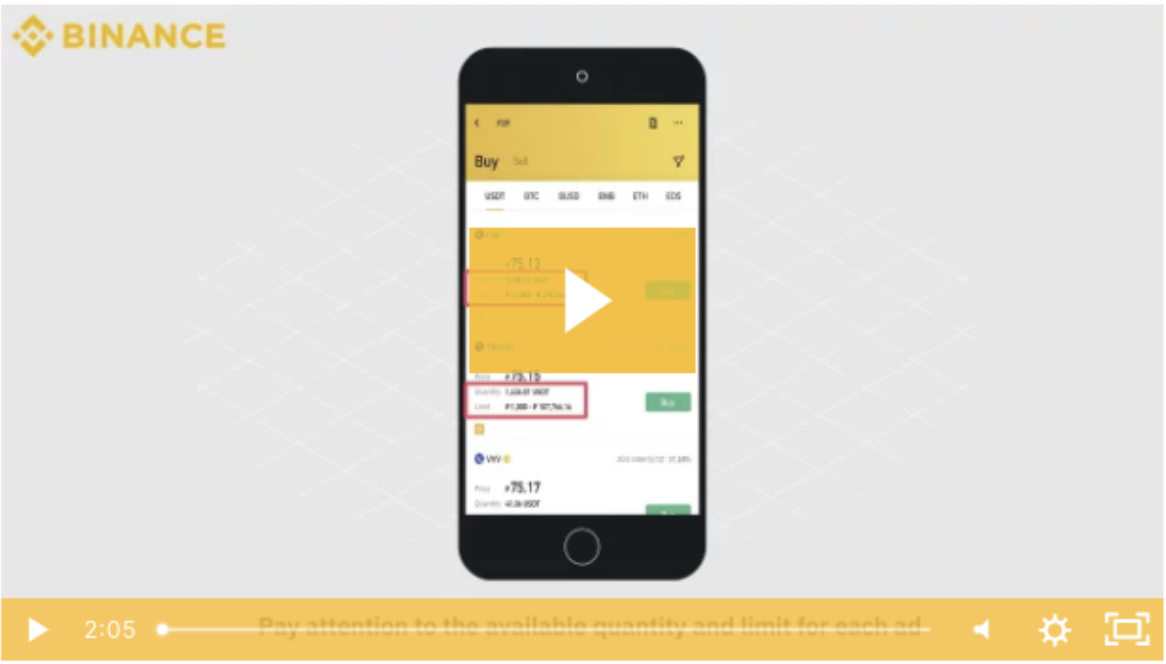 Become a P2P merchant and earn money using the FNB e-wallet
Do you know that you can build your own crypto business on Binance P2P and earn money? You can have between 1%-3% profit for P2P trading in South Africa. Now you can take advantage of multiple payment methods available in South Africa, Bank transfer, Chipper Cash and FNB e-wallet. People will often pay a higher price to use a certain payment method that they prefer. Trade peer-to-peer in other markets, open your business to other countries in Africa using Binance P2P.
To provide better liquidity and service, we are looking for P2P merchants who have a reliable source of South African Rand (ZAR) and cryptocurrencies, plus proven P2P trading experience. In addition to the zero cost, Binance P2P merchants can enjoy zero fee deposit, VIP spot trading fee discount and exclusive customer support. All you have to do is to post your trade advertisements at your preferred conditions and profit from the spreads between different offers.
Apply to be a Binance P2P merchant here.
Related content that may be interesting for you:
How Does Binance P2P's Escrow Service Work?