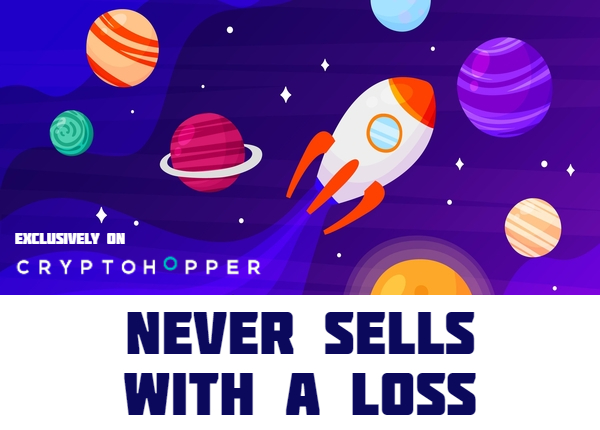 Explorer Premium Template (Wolf Of Crypto)
Log in
Price includes 12 months of updates.
Additional info
Version
3
Updated on

Created on

Overview
»»» FREE chat support and proof of profit on our website - https://wolfofcrypto.org

Are you using Cryptohopper's Explorer plan (15 coins)? Download this strategy and template.
With this strategy you never sell with a loss, ever! Explorer Premium is the most advanced crypto trading strategy for your plan. Explorer Premium can generates amazing profits for your Explorer bot! This premium strategy aims to predict price jump before it happens and then sends a buy order for this coin (24/7).
For Adventure or Hero subscription, please consider using the popular HIT & RUN strategy - https://www.cryptohopper.com/marketplace/item?item_id=9775?atid=19594

» Specs »
- One-minute setup and your bot will start trading for you
- Never sell coins with a loss. Only with profit!
- Average holding time of 12 hours
- Tested over 10,000 times
- Buy once and gain lifetime access (w/ 12 months of updates!)
- Updated daily to generate profits in all market conditions
- Free support and guidance

» Setup instructions »
- Download this template and enable auto-update
- Download the strategy for this template from this link - https://www.cryptohopper.com/marketplace/item?item_id=9940?atid=19594
- Navigate to your baseconfig settings (at www.cryptohopper.com/config )
- Click the "actions" button (top-right) and then "Load template"
- Load the template "Explorer Premium"
That's it! Your bot will start trading for you 24/7. It's that easy!

We are committed to excellence
Years of trading experience led us to create some of the most robust trading strategies on the market. What's our secret? Testing! and lot's of it. We test each strategy 1000's of times to find the best performing configuration.

Discuss and get help on Telegram - https://telegram.me/WolfOfCryptoOrg
Click the "DOWNLOAD" button on the top of this page to start trading in seconds
More info, support and user-guides can be found on our new website - https://wolfofcrypto.org
---
Template Details
BTCETHBNBLTCADAXRPXLMETCVETLINKBCHSOLDCRDOTSUSHI
Strategies
This template has the following strategies configured. You need to download these strategies for this template to work correctly.
---
---
The product provided on this page is not provided by Cryptohopper, but by external advisors and trading professionals. Although we check and validate each marketplace seller, Cryptohopper will not be liable or responsible for any loss or damage due to the use of these templates and strategies.
All prices on this website are excluding VAT (if applicable).