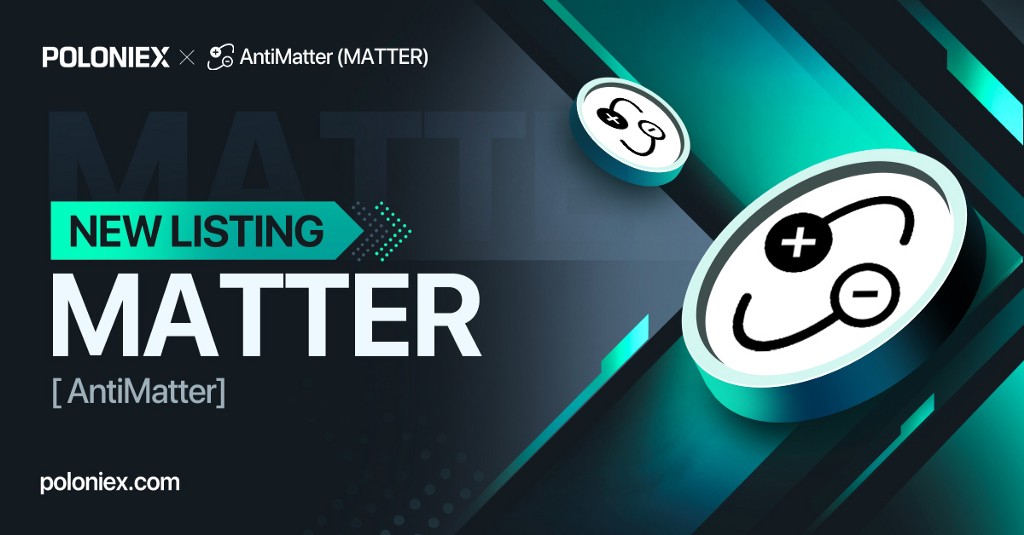 Starting now, wallets are open and you can begin depositing MATTER into your Poloniex account. Full trading for MATTER/USDT and MATTER/TRX will be enabled at 06:00 AM UTC today.
Interested in our listings? Tell your friends and earn 20% on their trading fees.
What is MATTER?
MATTER is a utility token of the DeFi protocol AntiMatter, which can be used for governance, creation and redemption of options, transaction fees, etc. AntiMatter is a perpetual option innovation protocol based on polarized tokens. It allows users to freely create, trade and arbitrage put call options in a permissionless environment. AntiMatter is about to launch two new NFT financial products. Deposit MATTER now and begin trading: MATTER/USDT & MATTER/TRX !
MATTER Stats
Price: $2.87
Market Cap: $56,128,118
24h Trading Volume: $161,257,605
Market Cap Rank: #527
24h Low / 24h High: $2.84 / $3.13
All Time High: $3.91 (August 24, 2021)
All-Time Low: $2.00 (August 14, 2021)
Circulating Supply: 19,531,250 / 500,000,000 MATTER
Have an idea of what you want us to list next? Fill out our listing application or let us know on Twitter!
---
was originally published in The Poloniex blog on Medium, where people are continuing the conversation by highlighting and responding to this story.