A strong performer today is Cosmos ( ATOM), which is up 18%. ChainLink ( LINK), on the other hand, is hovering around $13.50 after an incredible weekend of gains.
The total cryptocurrency market capitalization rose 2.6% to above $370 billion. Meanwhile, Bitcoin's dominance remained below 60%, as per data from CoinGecko.

Top gainers and losers
With Bitcoin once again testing the $12,000 high, small-capitalization altcoins are shining. Two alticoins have risen over 30% in the last 24 hours — Polkadot ( DOT) and Nebulas ( NAS). Linkeye (LET) also realized a 29.47% daily return.
The non-fungible token sector saw strong momentum last week. However, the rapid rallies left some of these altcoins facing short-term pullbacks. Decentraland ( MANA) made a -9.95% correction over the last 24 hours — though it gained 140% over the past two weeks.
BTC technical analysis
Technically, the MA60 on the 4-hour chart effectively supported the price of BTC. An intraday threshold is still located around $11,730 with an upper resistance near the previous high of $12,150.
If BTC can break through the previous high, then $12,500 to $12,800 could be the next resistance area.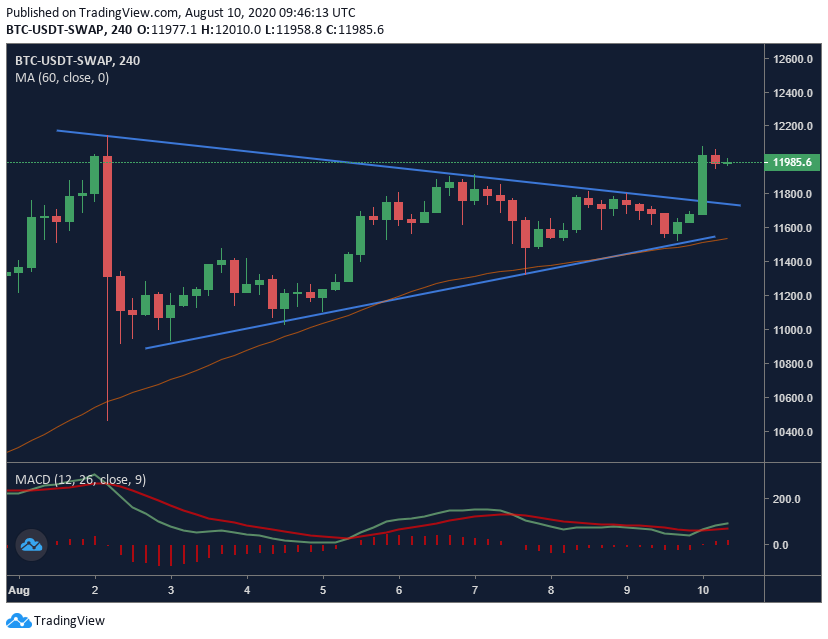 Visit https://www.okex.com/ for the full report.
Disclaimer: This material should not be taken as the basis for making investment decisions, nor be construed as a recommendation to engage in investment transactions. Trading digital assets involve significant risk and can result in the loss of your invested capital. You should ensure that you fully understand the risk involved and take into consideration your level of experience, investment objectives and seek independent financial advice if necessary. OKEx Insights presents market analyses, in-depth features, original research & curated news from crypto professionals. Follow OKEx Insights on Twitter and Telegram.
---
was originally published in OKEx Blog on Medium, where people are continuing the conversation by highlighting and responding to this story.