Most of the top 10 cryptocurrencies in terms of market capitalization underperformed against Bitcoin yesterday. Ether ( ETH) is up 1.24% and Litecoin ( LTC) gained 0.43%.
Miner Bitfly tweeted that Ethereum Classic ( ETC) was hit by another 51% attack. According to OKLink, the current hash rate of the ETC network is 4.71 TH/s, which is nearly 20% lower than last week. The price of ETC has fallen slightly by 0.78% in the last 24 hours. In an effort to safeguard users' funds, OKEx has already suspended ETC deposits and withdrawals until its mainnet upgrade is complete.
Other notable movers include Zcash ( ZEC) and Algorand ( ALGO), which are up 9.5% and 6.4%, respectively. At the same time, we've noticed a bullish surge in sentiment in regard to several mid-cap altcoins — as evidenced by perpetual-swap funding rates jumping to over 0.1% per every eight hours, including Monero ( XMR), IOST and THETA.

Stocks in the United States again closed higher on Wednesday. The Nasdaq Composite Index rose for the sixth straight trading day and hit another all-time high, breaking the 11,000 mark for the first time. Meanwhile, the S&P 500 Index rose 21.26 points, or 0.64%.
U.S. blockchain concept stocks rose as a collective. Marathon Patent (MARA), a patent holding company known for its involvement in cryptocurrencies, jumped up 27%. Riot Blockchain (RIOT) rose 18% on Wednesday and crypto-friendly online shopping website Overstock.com (OSTK) hit a new record high yesterday, up 1,200% so far this year.
Gold prices rose for the fourth day in a row and surpassed the $2,000 milestone. Gold has soared more than 34% in 2020.
Top gainers and losers
The decentralized finance sector has decoupled from BTC. We have seen multiple DeFi projects surging 20% or more in the last 24 hours — including Bancor ( BNT), which is up 24.49%. CyberVeinToken ( CVT) and Fantom (FTM) also rose 21.46% and 18.84%, respectively, in the last 24 hours.
The only altcoin down by more than double digits today is Xensor ( XSR), which is down 12.91%. The Midas Touch Gold ( TMTG) dropped 8.17% after surging 40.65% yesterday.
BTC technical analysis
BTC has taken over Monday's high of $11,500 and has run straight to the $11,800 resistance area. However, trading volume shrank over the rally while volume increased on the correction phase. The sustainability of another leg up is likely to be weak.
An intraday threshold is located around $11,550 with a strong resistance near $11,900.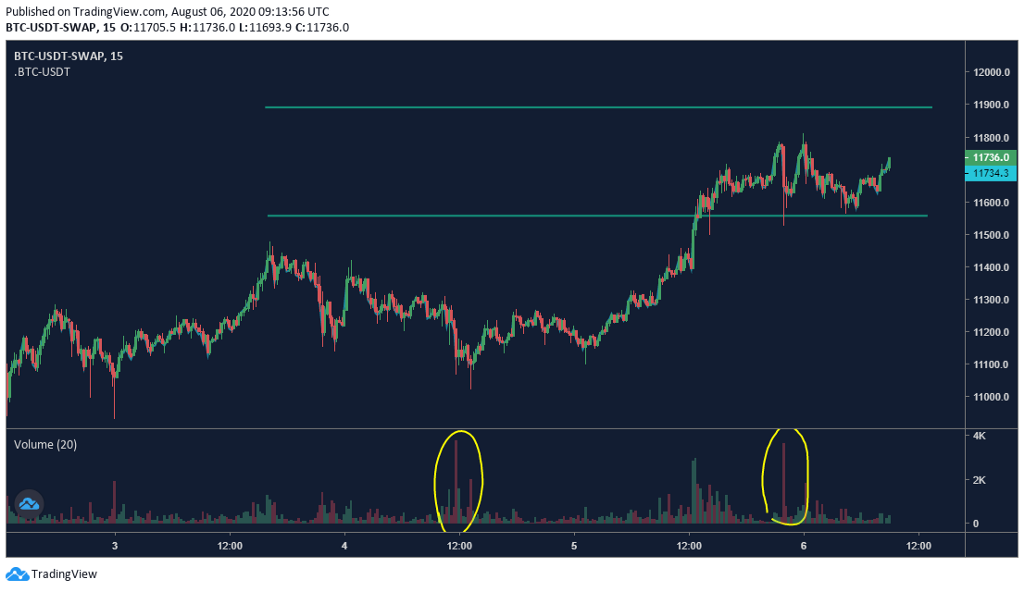 Disclaimer: This material should not be taken as the basis for making investment decisions, nor be construed as a recommendation to engage in investment transactions. Trading digital assets involve significant risk and can result in the loss of your invested capital. You should ensure that you fully understand the risk involved and take into consideration your level of experience, investment objectives and seek independent financial advice if necessary. OKEx Insights presents market analyses, in-depth features, original research & curated news from crypto professionals.
---
was originally published in OKEx Blog on Medium, where people are continuing the conversation by highlighting and responding to this story.