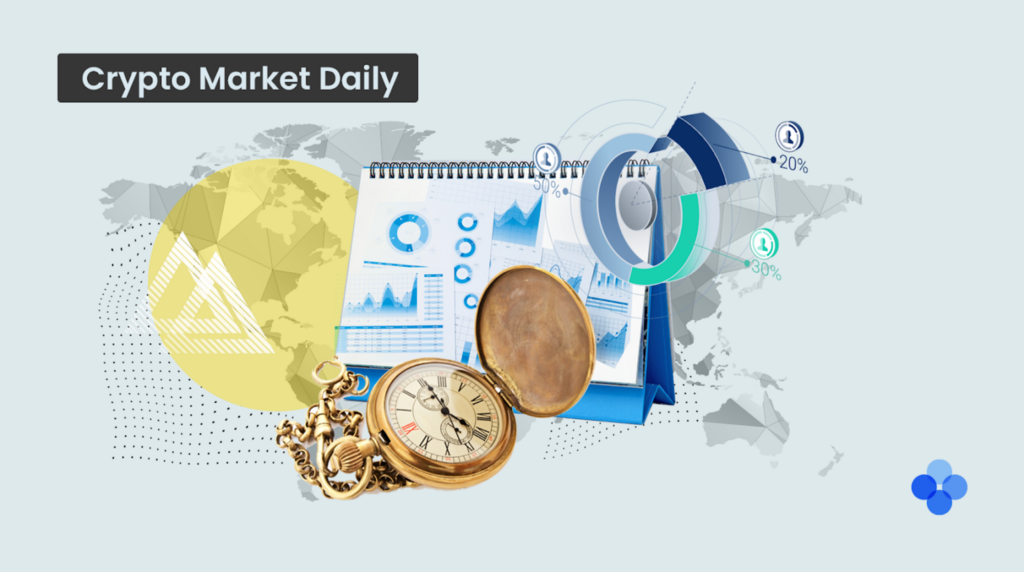 The airdrop of Uniswap ( UNI) tokens keeps driving up Ethererum gas fees to above 450 gwei levels while also pushing up the price of Ether ( ETH). At the same time, BTC continues to hover in a narrow range between $11,700 and $11,000. It is up 0.57% overnight.
Polkadot ( DOT) and TRON ( TRX) were impressive performers among major altcoins and are up 2.54% and 7.19%, respectively. Meanwhile, Chainlink ( LINK) was down another 1% to $10.80 levels after losing 50% of its value from its high of $20.
The total cryptocurrency market capitalization increased by 1.0% to $357 billion, as per data from CoinGecko. Meanwhile, BTC dominance stabilized at 56.6%.

Top altcoin gainers and losers
UNI/USDT +44.18%
JFI/USDT +33.36%
TAI/USDT +31.11%
BOT/USDT -17.15%
ZYRO/USDT -19.67%
RIO/USDT -33.98%
All of the tokens on today's list belong to the decentralized finance sector.
Without a doubt, UNI is the hottest token of the week. It is up 44.18% overnight. Although the price fell to as low as $2.40 after going live on OKEx, $2.80 became a strong support level in the subsequent rally. The price of UNI has pushed above $5.30. For more information on UNI's valuation, you can refer to OKEx Insights' article posted yesterday.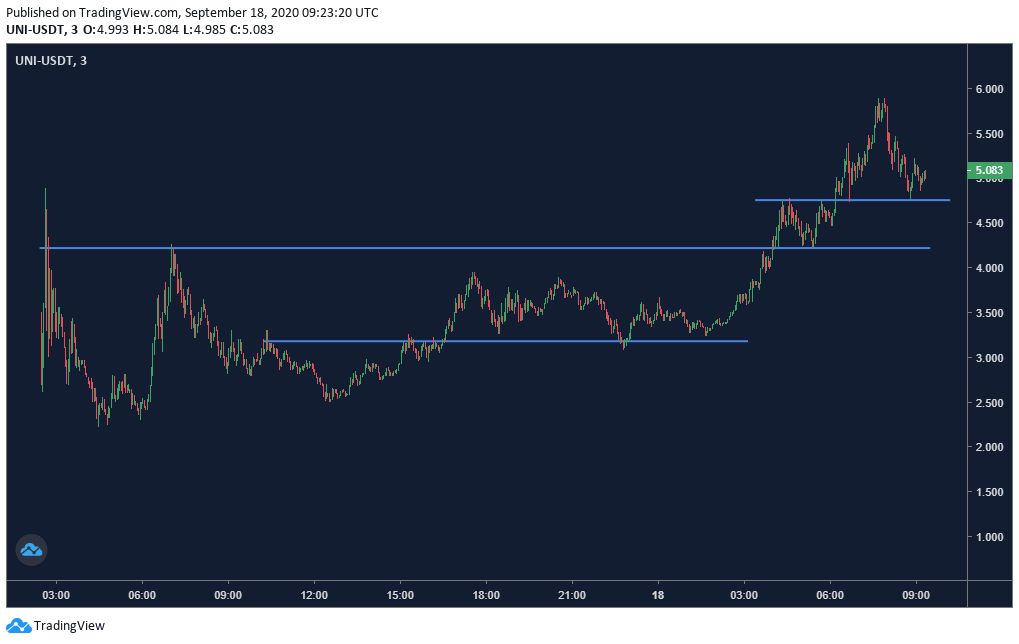 While the TRX price rallied, its ecosystem tokens, which have a much lower market cap, bounced back quickly. Jackpool.finance ( JFI) and tBridge Token ( TAI) surged 33.36% and 31.11%, respectively.
Realio Network ( RIO) is listed on the top losers list for the second day in a row. It recorded a negative 33.98% return overnight.
BTC technical analysis
Overnight, the BTC price did not fluctuate much. It bounced back after testing $10,750 support. A mid-term threshold is still located at $10,600, with short-term resistance at $11,000. The focus of the market still hasn't returned to the leader.
For a snapshot of the changing dynamics of BTC derivatives data, readers can jump to OKEx Insights' recently published Futures Friday article, which features a detailed analysis of derivatives trading indicators — such as the long/short ratio, open interest and quarterly futures premiums.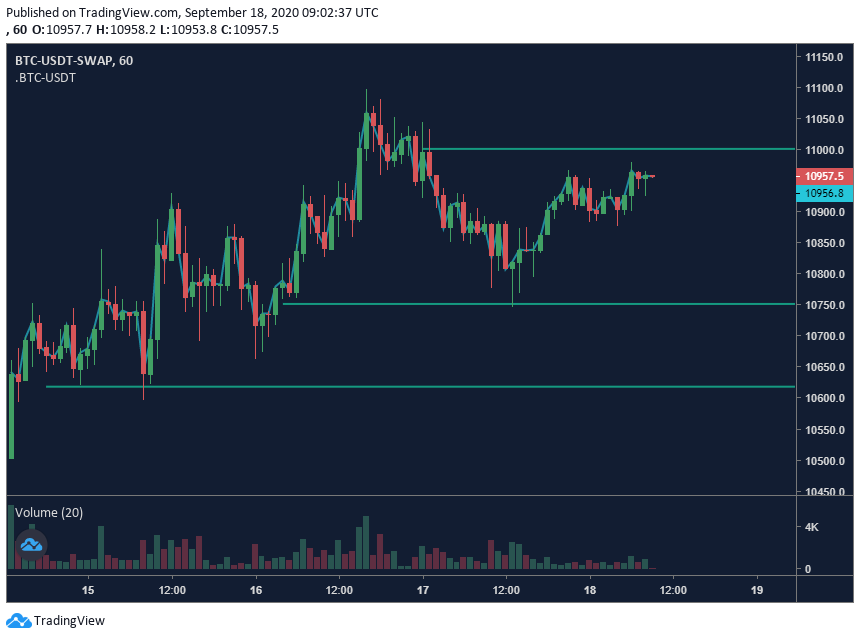 Disclaimer: This material should not be taken as the basis for making investment decisions, nor be construed as a recommendation to engage in investment transactions. Trading digital assets involve significant risk and can result in the loss of your invested capital. You should ensure that you fully understand the risk involved and take into consideration your level of experience, investment objectives and seek independent financial advice if necessary. OKEx Insights presents market analyses, in-depth features, original research & curated news from crypto professionals.
Not an OKEx trader? Sign up and start trading today!
---
was originally published in OKEx Blog on Medium, where people are continuing the conversation by highlighting and responding to this story.