Kyber Network (KNC)
Band Protocol (BAND)
Ren (REN)
Nexus Mutual (NXM)
UMA (UMA)
Ampleforth (AMPL)
Hedera Hashgraph (HBAR)
Reserve Rights (RSR)
Numeraire (NMR)
Aave (LEND)
Wie entscheiden wir?
Bei Bitpanda fügen wir Kryptowährungen nicht einfach so hinzu. Es gibt einen bestimmten Prozess, den wir durchlaufen, bevor wir uns für eine neue Kryptowährung entscheiden. Zunächst überprüfen wir die Nachfrage nach diesem Asset, analysieren das Projekt aus geschäftlicher Sicht und versuchen natürlich Assets zu finden, die in der Branche bekannt sind und sich als Key Player erwiesen haben.
Wie nehme ich teil?
Um an der Umfrage teilzunehmen, musst du dich nur in dein Bitpanda Konto einloggen und ein BEST VIP (mit mindestens 5.000 BEST in deiner Bitpanda Wallet) sein. Es erscheint ein Pop-up rechts unten auf deinem Bitpanda Dashboard. Bitte beachte, dass diese Umfrage zwischen 25. September 12:00 Uhr MEZ und 2. Oktober 12:00 Uhr MEZ aktiv sein wird. Um an der Umfrage teilnehmen zu können und das Pop-up zu sehen, musst du deinen AdBlocker deaktivieren. Hier findest du weitere Informationen darüber, wie wir neue digitale Assets listen.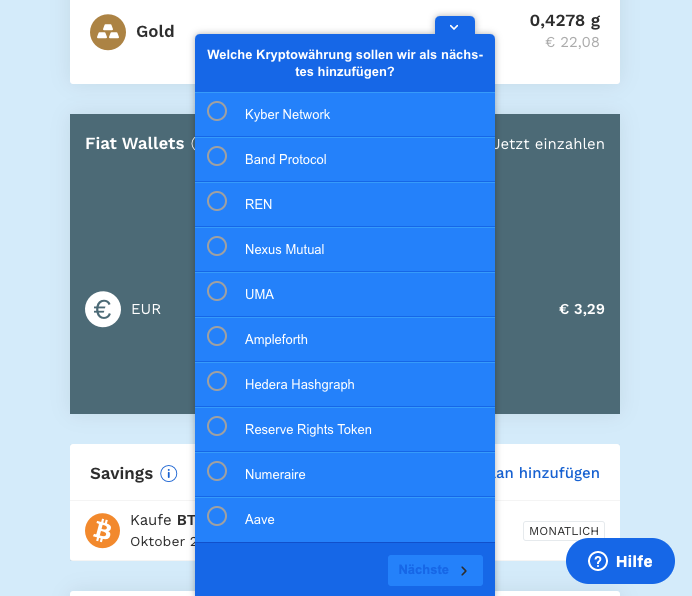 Aktuelle BEST Updates: Simply the BEST Trading Competition
Hast du es noch nicht gehört? Auf Bitpanda Pro läuft eine weitere Trading Competition und sie ist simply the BEST! Wenn du der Welt beweisen möchtest, dass du einfach der BESTe Trader bist, hast du zwei Wochen Zeit, um das höchste Volumen der BEST-Trading-Paare zu traden. Die Competition läuft seit 21. September 12:00 Uhr MEZ und wird bis zum 5. Oktober 12:00 Uhr MEZ aktiv sein.
Trader, die im Zeitraum von zwei Wochen mit allen BEST-Trading-Paaren (BEST/EUR und BEST/BTC) auf Bitpanda Pro das höchste Tradingvolumen generieren, erhalten bis zu 10.000 EUR in BEST auf ihre Bitpanda Pro BEST Wallet. Weitere Informationen dazu in unserem Blog.