Nous avons récemment ajouté six nouveaux tokens DeFi à Bitpanda et pour l'occasion, nous organisons le plus gros giveaway à ce jour ! Voici les nouveaux tokens que nous venons d'intégrer : Uniswap (UNI), yearn.finance (YFI), Synthetix Network Token (SNX), Polkadot (DOT), Compound (COMP) et Maker (MKR). N'hésitez pas à y jeter un coup d'œil sur Bitpanda !
Sans plus tarder, nous aimerions maintenant connaître votre avis sur les prochains tokens DeFi à intégrer ! Parmi les dix tokens Decentralised Finance de la liste ci-dessous, lesquels aimeriez-vous retrouver sur Bitpanda ?
Kyber Network (KNC)
Band Protocol (BAND)
Ren (REN)
Nexus Mutual (NXM)
UMA (UMA)
Ampleforth (AMPL)
Hedera Hashgraph (HBAR)
Reserve Rights (RSR)
Numeraire (NMR)
Aave (LEND)
Comment se déroule la sélection ?
Chez Bitpanda, les actifs financiers numériques ne sont pas intégrés au hasard. Avant de décider quels actifs ajouter, nous avons mis en place une procédure qui suit une approche par étapes. Nous examinons la demande pour l'actif dans son ensemble, analysons le projet d'un point de vue commercial et, bien sûr, essayons de nous concentrer sur les actifs qui ont déjà fait leurs preuves en tant qu'acteurs clés dans l'industrie.
Comment participer ?
Pour participer au sondage, il vous suffit de vous connecter à votre compte Bitpanda et, en tant que BEST VIP (ayant au moins 5 000 BEST dans votre Bitpanda wallet), une petite pop-up s'affichera dans le coin en bas à droite de votre tableau de bord Bitpanda. Veuillez noter que ce vote aura lieu du 25 septembre à 12h00 CET au 2 octobre à 12h00 CET. Vous aurez besoin de désactiver vos bloqueurs de publicité pour que la pop-up puisse apparaître. Retrouvez ici plus d'informations sur nos procédures d'intégration de nouveaux actifs financiers numériques.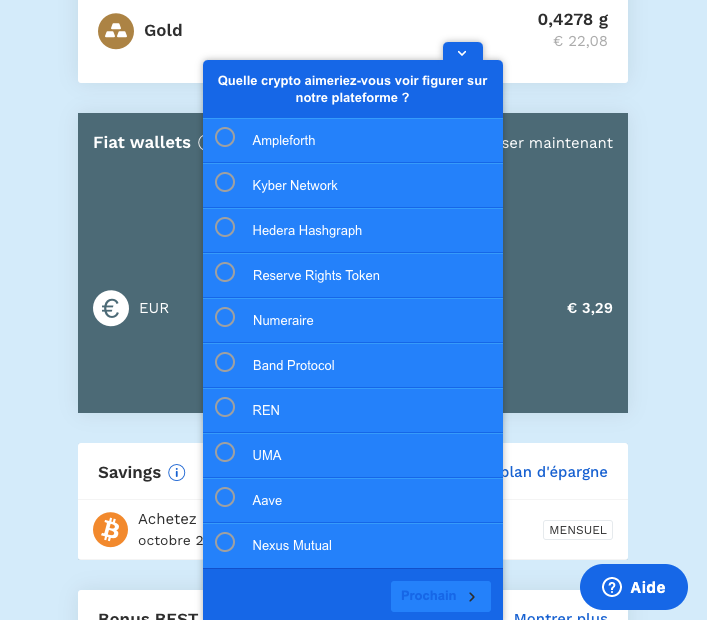 Dernières actualités sur BEST : le concours de trading Simply the BEST
Et au fait, il y a un nouveau concours de trading sur Bitpanda Pro : Simply the BEST ! Pour prouver au monde entier que vous êtes tout simplement le meilleur d'entre tous les traders, vous avez deux semaines pour booster les volumes de vos paires de trading BEST sur Bitpanda Pro ! Le concours de trading commence le 21 septembre à 12h00 CET et se déroulera jusqu'au 5 octobre à 12h00 CET.

Les traders ayant le plus grand volume de trading sur les marchés BEST de Bitpanda Pro (BEST/EUR et BEST/BTC) pendant les deux semaines du concours gagneront jusqu'à 10 000 euros en BEST, versés sur leur BEST wallet sur Bitpanda Pro. Pour en savoir plus, rendez-vous sur notre blog.