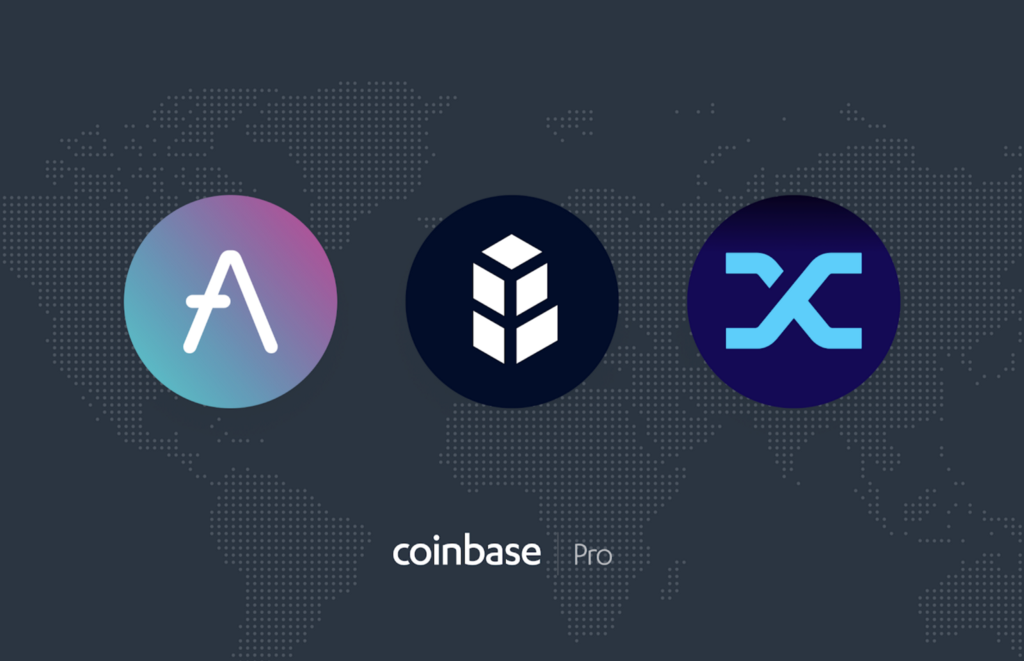 One of the most common requests we receive from customers is to be able to trade more assets on our platform. Per the terms of our listing process, we anticipate supporting more assets that meet our standards over time. Most recently we have added trading support for Filecoin (FIL), NuCypher (NU), Wrapped Bitcoin (WBTC), Balancer (BAL), Ren (REN), Uniswap (UNI), yearn.finance (YFI), Loopring (LRC), UMA (UMA) Celo (CGLD), Numeraire (NMR), Band (BAND), Compound (COMP), Maker (MKR) and OmiseGo (OMG), along with supporting additional European and UK order books. Coinbase continues to explore support for new digital assets.
Starting immediately, we will begin accepting inbound transfers of AAVE, BNT and SNX to Coinbase Pro. Trading will begin on or after 9AM Pacific Time (PT) Tuesday December 15, if liquidity conditions are met.
Once sufficient supply of AAVE, BNT and SNX is established on the platform, trading on our AAVE-USD, AAVE-BTC, AAVE-EUR, AAVE-GBP, BNT-USD, BNT-BTC, BNT-EUR, BNT-GBP and SNX-USD, SNX-BTC, SNX-EUR, SNX-GBP order books will launch in three phases, post-only, limit-only and full trading. If at any point one of the new order books does not meet our assessment for a healthy and orderly market, we may keep the book in one state for a longer period of time or suspend trading as per our Trading Rules.
We will publish tweets from our Coinbase Pro Twitter account as each order book moves through the phases.
Aave (AAVE) is an Ethereum token that powers Aave, a decentralized non-custodial money market protocol where users can participate as depositors or borrowers. Depositors provide liquidity to the market to earn a passive income, while borrowers are able to borrow cryptocurrencies in exchange for paying a variable interest rate.
Bancor (BNT) is an Ethereum token that powers the Bancor protocol. The protocol describes itself as "a fully on-chain liquidity protocol that can be implemented on any smart contract-enabled blockchain."
Synthetix (SNX) is an Ethereum token that powers Synthetix, a decentralised synthetic asset issuance protocol. Synthetic assets are minted when token holders stake their SNX as collateral using Mintr, a decentralised application for interacting with the Synthetix contracts. The protocol currently supports synthetic fiat currencies, cryptocurrencies, and commodities.
Please note that AAVE, BNT and SNX are not yet available on Coinbase.com or via our Consumer mobile apps. We will make a separate announcement if and when this support is added.
You can sign up for a Coinbase Pro account here to start trading. For more information on trading AAVE, BNT and SNX on Coinbase Pro, visit our support page.
###
This website contains links to third-party websites or other content for information purposes only ("Third-Party Sites"). The Third-Party Sites are not under the control of Coinbase, Inc., and its affiliates ("Coinbase"), and Coinbase is not responsible for the content of any Third-Party Site, including without limitation any link contained in a Third-Party Site, or any changes or updates to a Third-Party Site. Coinbase is not responsible for webcasting or any other form of transmission received from any Third-Party Site. Coinbase is providing these links to you only as a convenience, and the inclusion of any link does not imply endorsement, approval or recommendation by Coinbase of the site or any association with its operators.
All images provided herein are by Coinbase.
---
was originally published in The Coinbase Blog on Medium, where people are continuing the conversation by highlighting and responding to this story.