We're making your journey with Bybit even sweeter! Participate in our Register, Trade, Earn event and grab a share of a 10,000 USDT bonus pool and 20 exclusive NFTs if you're one of our top 1,000 traders!
Event period: Aug. 12, 2022, 10 AM UTC – Sept. 1, 2022, 10 AM UTC
Here's how it works:
1. Register for the event
2. Make your first Spot or Derivatives trade on Bybit — the minimum trading volume is just $50!
The top 50 traders will share a 3,000 USDT bonus pool. 10 random traders will walk away with an exlusive NFT from GrabPic.

The top 51-1,000 traders will share a 7,000 USDT bonus pool. 10 random traders will walk away with an exlusive NFT from GrabPic .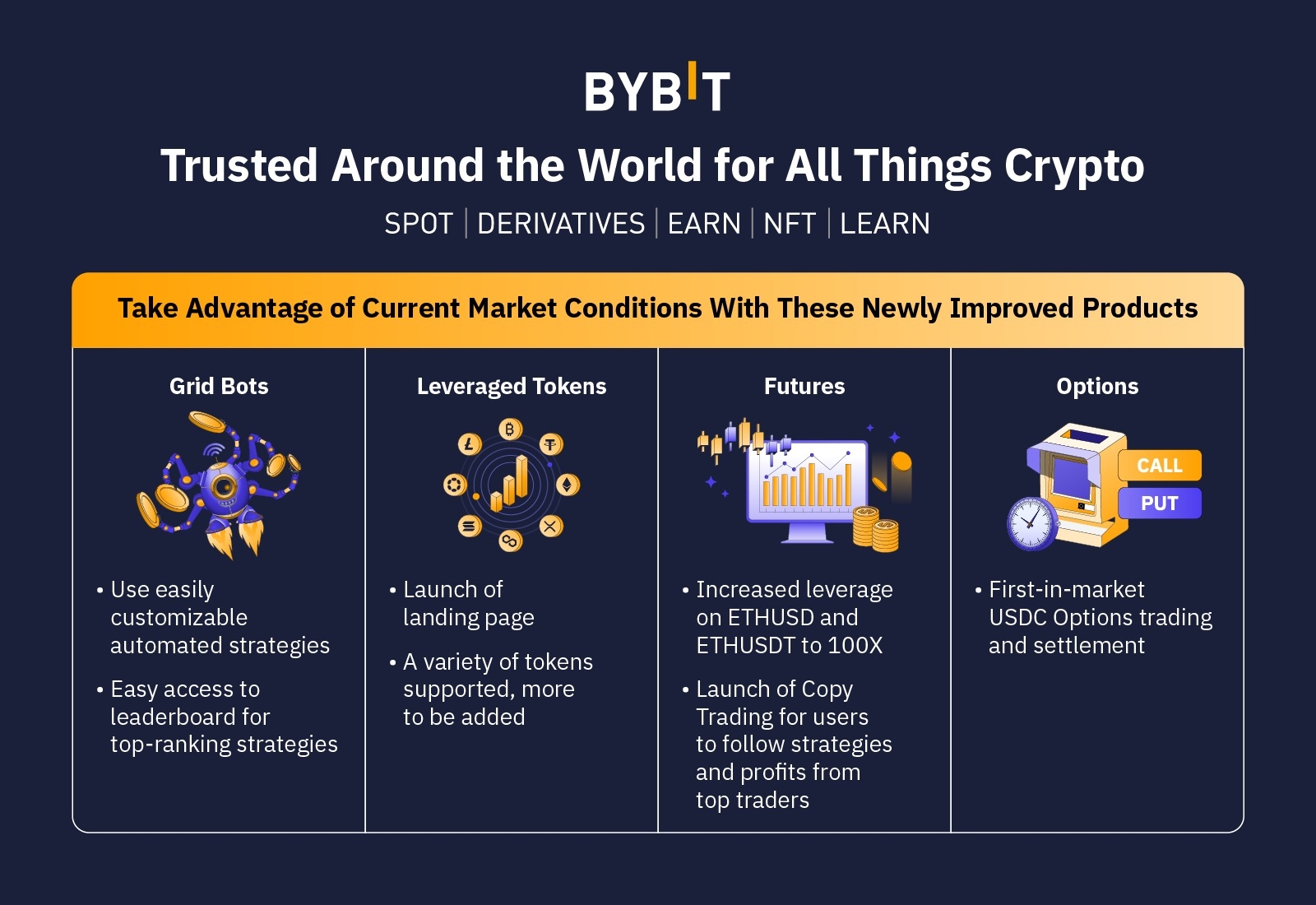 Bonus Rewards Await!
Share your love for Bybit, refer friends and earn up to 420 USDT!
Not Sure How to Start?
We've got your back, always. Here are some useful hacks to get you started!
Step 1: Discover your perfect trading product
Step 2: Find out about Bybit's fiat on-ramp tools
Watch these guide videos:
How to Deposit Crypto Directly into Bybit | Deposit Crypto Now
How to Buy Coins on P2P Through Bybit's Website | Get started with P2P
Step 3: Learn from the experts
Trade and earn with Grid Bots and Copy Trading:
Bybit Trading Bot Tutoria (How to Use Bybit Grit Bots) | Get started with Grid Bots
How to Copy Trade for Principal Traders | Get started with Copy Trading
Terms and Conditions
This event is only available for users in India. The event is not available for institutional users and market makers.

Users must click on the "Register Now" button to be eligible for all rewards.

Users are not allowed to stack deposit rewards from other campaigns and promotions on Bybit. If a user makes only one (1) deposit or trade but meets the requirements for several promotions, he/she is only entitled to the reward from one (1) promotion or campaign. The one with the highest reward amount shall prevail.

Reward(s), if any, will be credited to users' Rewards Hub within 30 days after the event ends. Users will receive a notification email when the reward(s) have been credited.

Trading volume includes both Spot and Derivatives. Participants must meet a trading volume of $50 and above to be eligible for rewards.

Bybit bonuses can be used as margin for Derivatives trading (exclusive of Spot). They can also be used to cover trading losses and offset trading fees prior to the user's own capital. Bonuses cannot be withdrawn, while profits from trading with bonuses can be withdrawn. The bonuses (if applicable) will be credited to eligible users one (1) month after the event ends.

All participants must strictly abide by the Bybit Terms of Service. Bybit reserves the right to disqualify any participants who engage in dishonest or abusive activities during the event, including bulk-account registrations to farm additional bonuses, and any other activities in connection with unlawful, fraudulent, or harmful purposes.

Bybit reserves the right to modify the terms of this event without notifying users in advance, as well as the right of final interpretation of this event. If you have any questions, please contact our customer service.