On the on-chain front, BTC investors continue to realize a larger magnitude of losses, which is typical during an extended bearish period. The reversal of tide is often associated with a pick-up in demand, or market-swaying macro signals. For instance, the impending monthly unemployment rate data and non-farm payrolls will probably shed some light on the Federal Reserve's next move to combat inflation in September.
In a similar vein, ETH is trading above the $1,650 mark and the 100-hour moving average, after increasing by 2% during the same period. The green wick over the past hour penetrated a major bearish trend line on ETH's hourly chart. The second largest cryptocurrency by market cap will usher in a fresh increase once it moves above the $1,670 to $1,680 range. Meanwhile, most major altcoins have flipped green, with BNB and SOL leading the pack on 4% increases in a similar time frame.
Talk of the Town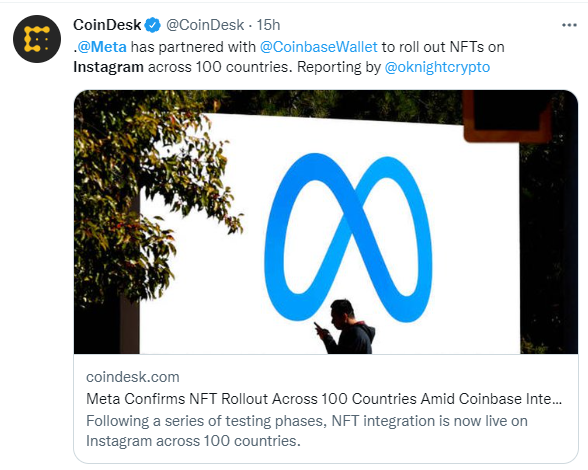 On Thursday, Meta announced that the company is embarking on the international expansion of NFT support on Instagram. Instagram's NFT functionality allows users to connect to their digital wallets and showcase their digital collectibles in Feed, Stories or messages, while automatically tagging both the creator and collector for attribution. The move, following Meta's initial NFT test in May, is part of the social network's foray into the web3 space through NFTs. The expansion will reach more than 100 countries across multiple continents.