This week, we take a brief look at Reserve, a stablecoin protocol that allows users to create stablecoins backed by a basket of tokenized assets. We also look into RPay,  the upcoming token unlock, and its future roadmap.
State of the Stablecoin Market
In recent months, the crypto market has seen great volatility and selling pressure due to global macroeconomic conditions, leading to various stablecoins de-pegging and in the case of Terra USD (UST), even failing completely due to a death spiral.
Source: blockchaincenter.net
The fall of UST arguably set off a domino of events, from insolvent CeFi lending protocols such as Celsius, BlockFi, and Voyager, to one of the most prominent crypto hedge funds in the world, Three Arrows Capital (3AC), filing for bankruptcy just days ago, as we saw the overall market cap of stablecoins drop from a high of $188 billion to $154 billion as of the time of writing.
These turn of events have sparked debate on the risks of algorithmic and semi-collateralized stablecoins, and have catalyzed regulatory bodies to accelerate regulation of cryptocurrencies and in particular, stablecoins. Just last week, the Biden administration met to discuss stablecoin regulations while the EU announced an agreement to regulate stablecoins across all 27 member countries.
The question remains — can stablecoins remain stable and risk-free for investors?
Nevin Freeman, founder of Reserve, concludes that fully and overcollateralized stablecoins are economically sensible, while algorithmic stablecoins are not. To this point, Reserve Protocol is built around the Reserve Token (RSV), and soon the RToken, which is a fully collateralized stablecoin pegged to the U.S. dollar.
Reserve
For the uninitiated, Reserve is a protocol built with the mission of bringing unrestricted access to alternatives to fiat money. By aggregating a basket of tokenized assets, the protocol would be able to create a stable currency without being dependent on centralized currencies or tokens.
Initially releasing its protocol whitepaper in 2018 (now deprecated), the team proceeded in 2020 to launch RSV, a stablecoin backed by ⅓ USDC, ⅓ TUSD, and ⅓ PAX before beginning to work on the Reserve App (RPay) whilst placing the protocol launch on hold.
RPay
RPay focuses on building real-world utility for RSV by facilitating conversion of local currencies to RSV in order to facilitate transactions between local banking facilities and the cryptocurrency world. RPay is currently in use across five countries, namely, Venezuela, Argentina, Colombia, Panama, and Peru. The team is also taking steps to expand operations to Mexico.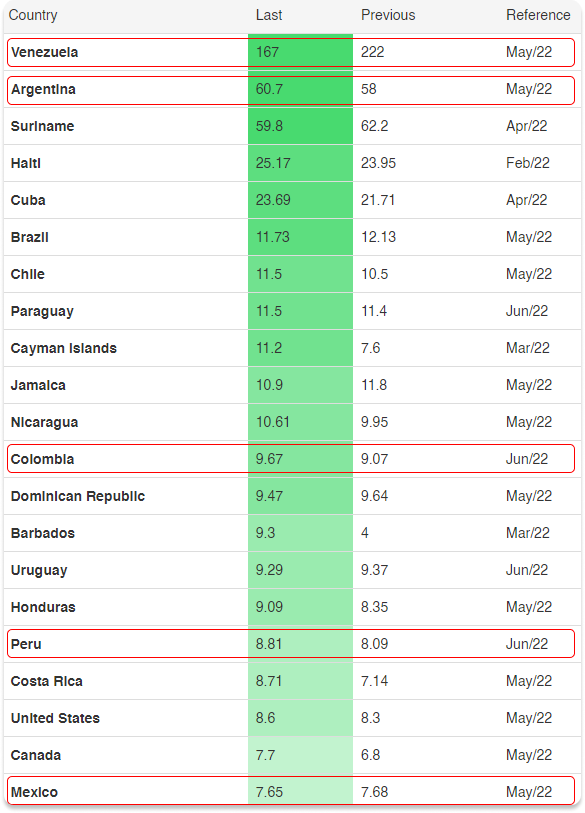 Source: tradingeconomics
A common theme among most of the countries where RPay is active is the high rate of inflation, with Venezuela having been experiencing hyperinflation since 2017. RPay helps users to convert their local currency into RSV in order to save, pay for goods and services, and most importantly, to combat inflation.
Rpay has achieved more than $100M in transaction value each month, with 650K users and 25K merchants on its app. However, the goal of Reserve is to eventually launch the Reserve Protocol, which will run as a decentralized protocol under the governance of Reserve Rights (RSR) holders.
Reserve Protocol
Reserve Protocol will allow anyone to create stablecoins (RTokens) backed by baskets of tokenized assets on Ethereum, which will be further insured and collateralized by RSR holders.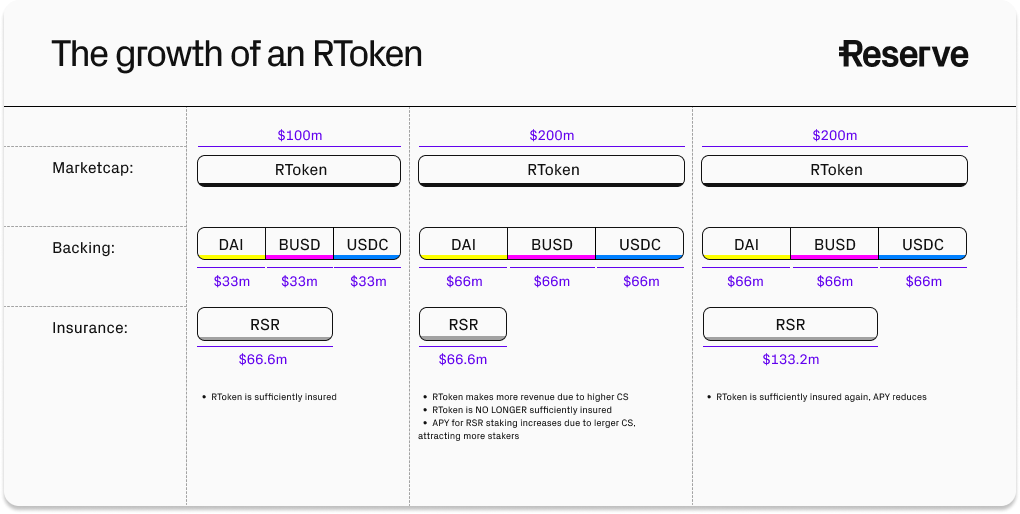 Source: Reserve
RSR holders are incentivized to insure RTokens by staking RSR, earning a share of revenue from transaction fees, or yield from lending collateral tokens, essentially making RSR a fail-safe should the underlying assets fail.
Incentivization increases or decreases depending on how much an RToken is insured, as shown in the illustration above.
Reserve intends to release two different RTokens upon launch of the new protocol:
Pure USD Stablecoin: This stablecoin will be backed by USD stablecoins, much like RSV, and will be governed by the core-team via timelock and multisig.

Yield-Bearing USD Stablecoin: this stablecoin will be backed by yield-bearing stablecoins such as cUSDC, aUSDC, cDAI, aDAI, etc, and will be governed by RSR stakers whereby 1 RSR is equal to 1 vote.
Tokenomics, July 2022 Unlocking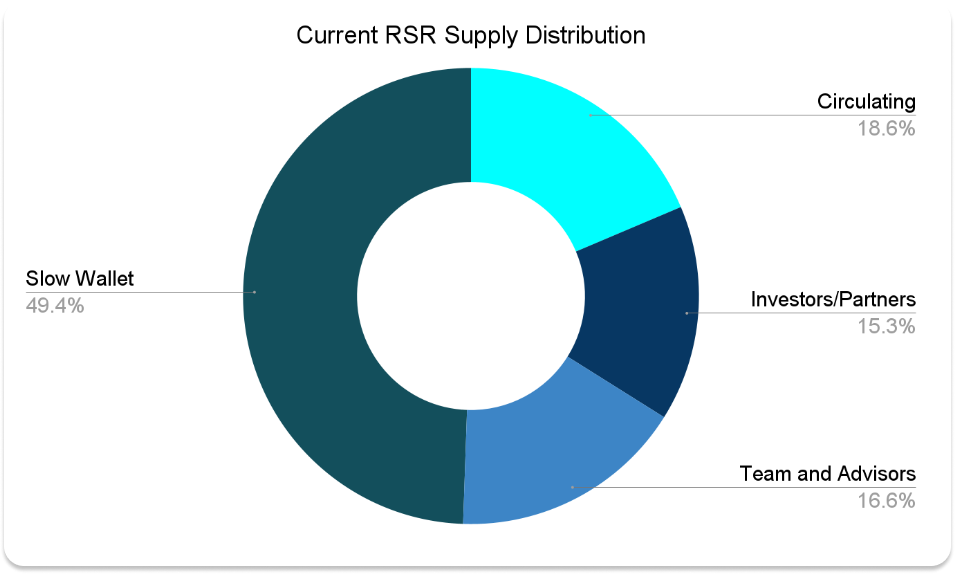 Reserve Rights (RSR) is the governance token of Reserve, and has a fixed supply of 100 billion tokens, with a circulating supply of around 18.6 billion tokens (18.6%). Of the remainder, 49.4% is allocated to the "Slow Wallet", which is a locked wallet controlled by the team used to fund adoption initiatives.
This wallet is restricted by a 4-week delay after each withdrawal, during which RSR holders are able to sell their RSR tokens in the event they do not agree with the purpose of the team's withdrawal from the "Slow Wallet".
The remaining allocation of Investors/Partners (15.3%) and Team and Advisors (16.6%) are progressively unlocked via one of two options as discussed below.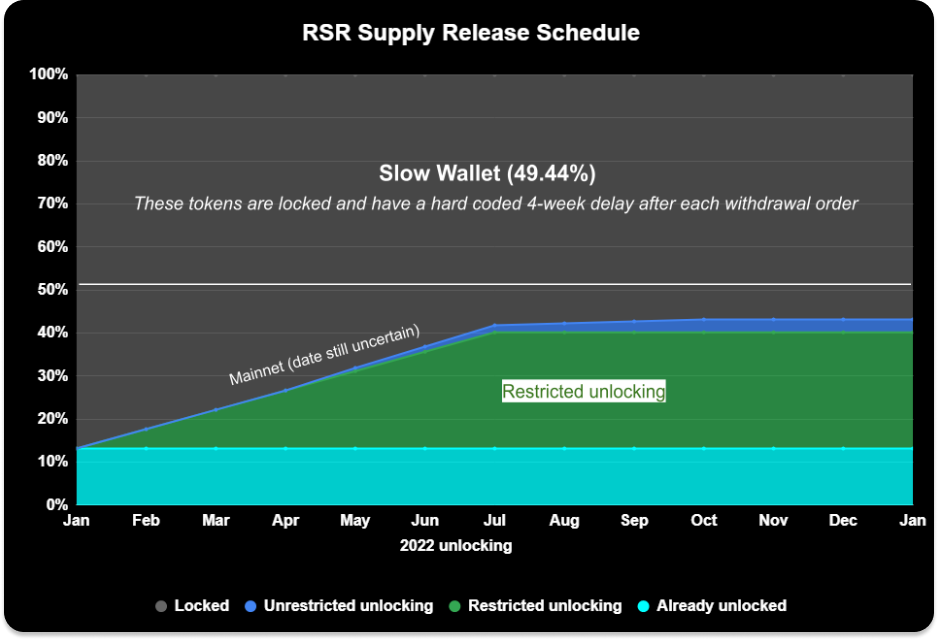 Source: Reserve
Option 1
Tokens begin "unlocking" linearly from January 2022 for 6 months.

"Unlocked" tokens are held in Reserve's custody.

RSR holders may only sell upon request. Sale is done via OTC.

OTC desk sells on exchanges up to 3% of real daily trading volume.

After six months (end of July 2022), holders receive the full amount of unlocked tokens that were not sold.

Under the contract, should there be significant selling volume via OTC by the end of July 2022, time in custody can be extended indefinitely until the selling demand is little to none.
Option 2
10% of locked tokens are unlocked upon mainnet launch.

Remaining 90% to be vested linearly over a period of six months.

Source: Reserve
Since Option 2 (the original unlocking schedule) would cause the current circulating supply inflate by around 2.7 times over a period of six months after the launch of the mainnet, Option 1 was proposed by the team in order to facilitate a controlled emission of tokens, which reduces sell pressure and negative impact on token price.
As seen from the table above, an overwhelming majority of RSR holders chose Option 1 as their preferred unlocking mechanism (RSR holders are bound by contract).
This shows that both the Reserve team and RSR token holders are aligned in terms of their long-term vision for the project as they attempt to mitigate the large unlock. However, with around 32% of the total supply set to be unlocked at the end July 2022, this still represents a significant unlock.
Reserve Team
The Reserve team is composed of around 200 team members, organized into various working groups, 95% of which are working under the RPay "Tribe", while the RToken "Tribe" consists of 10 people. Unlike other DeFi protocols which typically function as decentralized organizations without needing extensive customer support (CS), the bulk of the RPay team are in the CS department, indicating a large focus on bringing their app to consumers.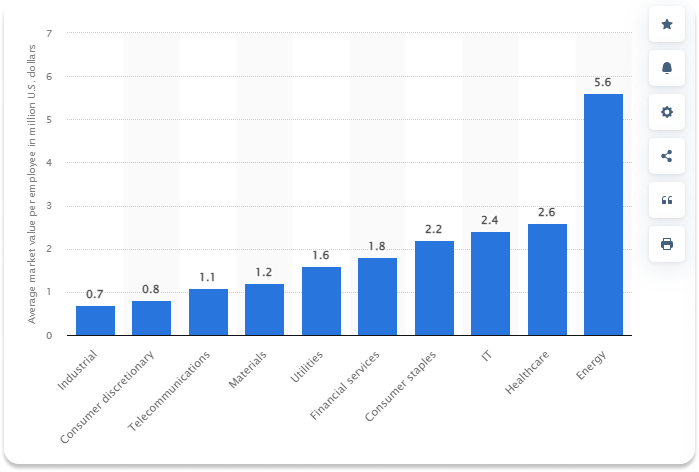 Source: Statista
Regardless, the large number of employees for such a small outfit does raise questions of the sustainability of Reserve. According to a study by Casaleggio Associati (via Statista), the average market value per employee (MVPE) in the financial services industry in the S&P500 is $1.8 million.
At a current market cap of $127 million, this puts the MVPE of Reserve at $0.635 million, well below the average for the financial services industry. Furthermore, Nevin Freeman, co-founder of Reserve, recently tweeted, "We have a long cash runway, so everything normal (sic) with recruiting, no downsizing.".
This indicates the team's confidence in its runway to sustain them, independent of any protocol revenue that's brought in.
Future Plans

Source: Reserve
Reserve Protocol's mainnet launch is imminent, however with no particular date set in stone yet. According to their mainnet dashboard, progress is sitting at 92% at time of writing.
A long-term goal of Reserve is to eventually have RTokens decouple from the USD peg. This is to ensure that RTokens remain stable, and not be tied to the risks of the dollar. This goal can only be possible with tokenization of various financial assets such as equities, commodities, and derivatives. Due to the nascent state of crypto, this process will take time.
Final Thoughts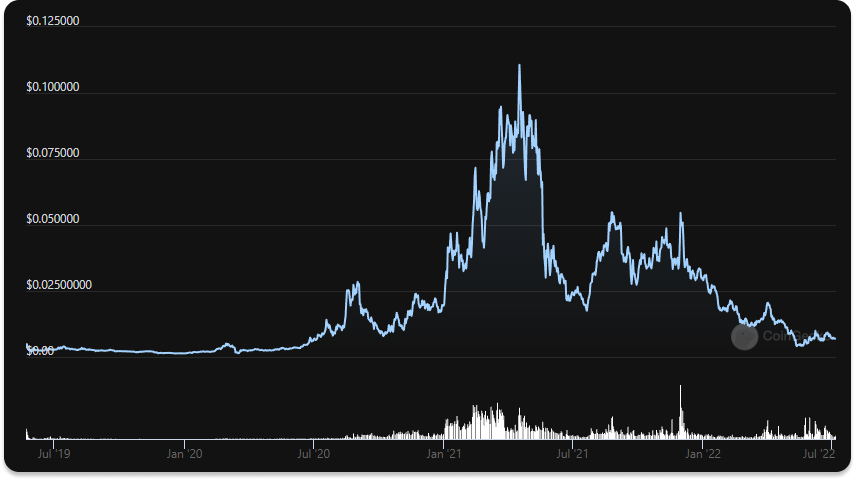 At time of writing, the RSR is trading at $0.007, which is about -94% down from its all time highs. This values the project at a market capitalization of $127 million and an FDV of $689 million.
As discussed above, investors should note that under Option 1 of the unlock schedule, the circulating supply of RSR stands to triple should the team allow the unlock to go ahead due to low selling demand via their appointed OTC desk.
Despite rising inflation and poor global macroeconomic conditions, Reserve seems to be well-positioned to provide a solution to highly inflationary and even hyperinflationary economies. This is further reinforced by their confidence in their robust runway. The launch of RSV and RPay in five Latin American countries can also be seen as a successful testing ground of sorts ahead of the Protocol's mainnet launch.
We are excited to see RTokens launch and expand to more countries and look forward to following the developments of Reserve.
Disclosure: Members of Bybit may be invested in some or all of the tokens and projects mentioned within the following article. This statement discloses any conflict of interest and is not a recommendation to purchase any token or participate in any of the mentioned ecosystems. This content is purely for educational purposes only, and should not in any way be construed as investment advice. Please exercise caution and practice your own due diligence if you are planning to partake in any of these projects in any way. The views expressed in this article are that of the author(s) and do not represent the views of Bybit.