In the traditional market, investors are actively seeking short exposure to BTC through ProShares' short BTC ETF (BITI), which was launched last Tuesday. Less than a week since its launch, BITI has seen substantial inflows with its short exposure amounting to 939 BTC, making it the second-largest BTC-related ETF in the United States.
ETH is trading below $1,150 after dropping by 5% within the same period. The second-largest cryptocurrency by market cap is eyeing the immediate resistance level near $1,180, and the continued struggle below the $1,200 handle may limit its upside momentum. Most major altcoins have largely flipped red, with canine-inspired memecoins leading the downside correction. However, over the past ten days, several L1 tokens have recovered from lows on the back of bullish news from the dev front. ATOM saw exceptional growth after dYdX announced its expansion to Cosmos, while SOL rallied following the release of Solana Mobile Stack.
Talk of the Town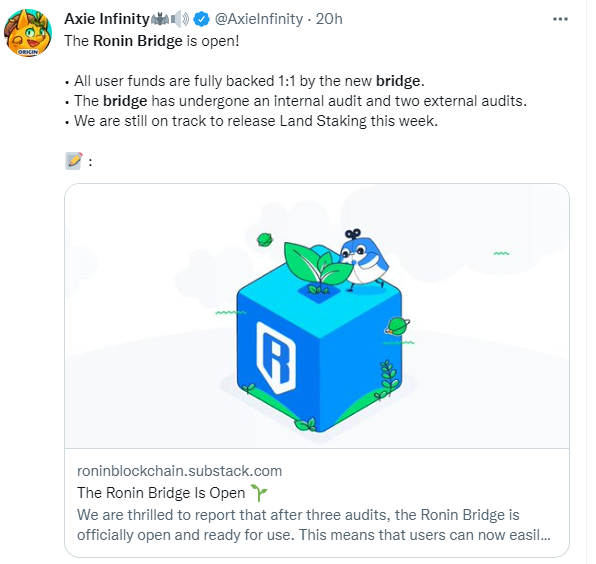 After falling victim to a $622 million exploit in March, the bridge that connects NFT game Axie Infinity's Ronin sidechain to the Ethereum mainnet is back online. Axie Infinity's developer Sky Mavis revealed plans to relaunch the Ronin bridge last week, saying that a hard fork is necessary to resume all functionalities. The firm conducted several audits of the code and announced the bridge's reopening on Tuesday, claiming that users can now make deposits and withdrawals on the Ronin network.