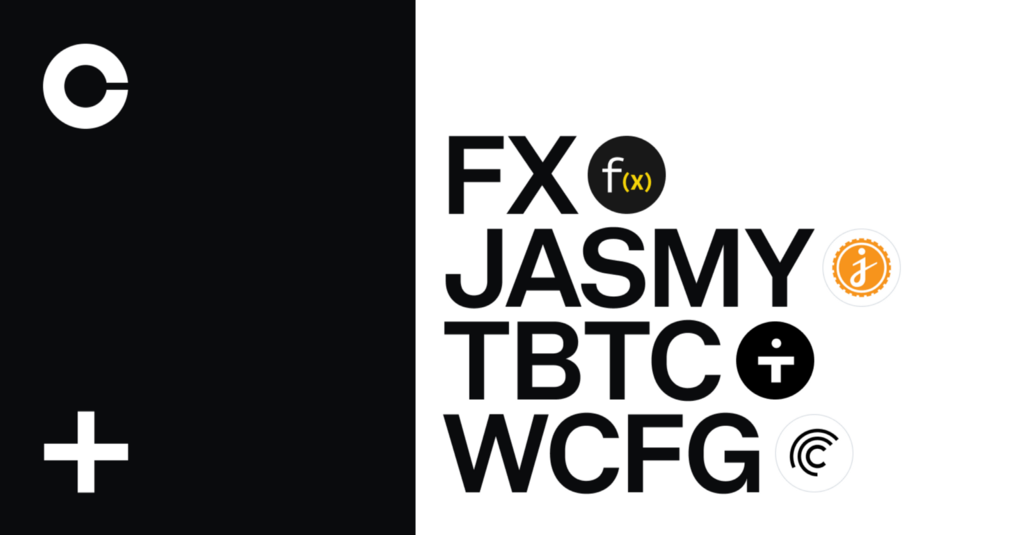 One of the most common requests we receive from customers is to be able to trade more assets on our platform. Per the terms of our listing process, we anticipate supporting more assets that meet our standards over time. Most recently we have added trading support for Avalanche (AVAX), Adventure Gold (AGLD), Braintrust (BTRST), Rari Governance Token (RGT) and XYO Network (XYO), DerivaDAO (DDX), DFI.money (YFII), Radicle (RAD), COTI (COTI), Axie Infinity (AXS), Request (REQ), TrueFi (TRU), Wrapped Luna (WLUNA), Harvest Finance (FARM) Fetch.ai (FET) Paxos Standard (PAX) and Polymath Network (POLY), and Clover Finance (CLV).
Starting Today, Wednesday October 6, we will begin accepting inbound transfers of FX, JASMY, TBTC and WCFG to Coinbase Pro. Trading will begin on or after 9AM Pacific Time (PT) Thursday October 7, if liquidity conditions are met.
Once sufficient supply of FX, JASMY, TBTC and WCFG is established on the platform, trading on our FX-USD, JASMY-USD, TBTC-USD, WCFG-USD, WCFG-USDT, WCFG-BTC, WCFG-EUR & WCFG-GBP order books will launch in three phases, post-only, limit-only and full trading. If at any point one of the new order books does not meet our assessment for a healthy and orderly market, we may keep the book in one state for a longer period of time or suspend trading as per our Trading Rules.
We will publish tweets from our Coinbase Pro Twitter account as each order book moves through the phases.
Function X (FX) is an Ethereum token that powers Function X, which comprises a core blockchain, cross-chain protocol, and platform for decentralized applications. FX can be used to pay for services such as smart contract creation and data storage, to vote for network upgrades, and for staking on the network.
Jasmy (JASMY) is an Ethereum token that powers Jasmy, an organization that develops IoT ("Internet of Things") platforms. Rather than coordinating networks of devices and data through centralized servers, Jasmy aims to decentralize the process via edge computing and storing data on IPFS, a decentralized storage network. JASMY can be used to transfer tokens between devices and payment for network services.
tBTC (TBTC) is an Ethereum token that's intended to represent Bitcoin (BTC) on the Ethereum blockchain. It is not Bitcoin, but rather a separate ERC-20 token that's designed to track Bitcoin's value. tBTC is powered by the Keep Network. Keep Network enables users to deposit Bitcoin and redeem tokenized tBTC, which can then be used across the Ethereum ecosystem.
Wrapped Centrifuge (WCFG) is an Ethereum token that's intended to represent Centrifuge (CFG) on the Ethereum blockchain. WCFG is not CFG, but rather a separate ERC-20 token that's designed to track CFG's price. CFG is the native asset of the Polkadot-based Centrifuge Chain and can be used for staking and on-chain governance.
FX, JASMY, TBTC and WCFG are not yet available on Coinbase.com or via our Consumer mobile apps. We will make a separate announcement if and when this support is added.
You can sign up for a Coinbase Pro account here to start trading. For more information on trading FX, JASMY, TBTC and WCFG on Coinbase Pro, visit our support page.
###
Please note: Coinbase Ventures may be an investor in the crypto projects mentioned here, and additionally, Coinbase may hold such tokens on its balance sheet for operational purposes. A list of Coinbase Ventures investments is available at https://ventures.coinbase.com/. Coinbase intends to maintain its investment in these entities for the foreseeable future and maintains internal policies that address the timing of permissible disposition of any related digital assets, if applicable. All assets, regardless of whether Coinbase Ventures holds an investor or Coinbase holds for operational purposes, are subject to the same strict review guidelines and review process.
This website contains links to third-party websites or other content for information purposes only ("Third-Party Sites"). The Third-Party Sites are not under the control of Coinbase, Inc., and its affiliates ("Coinbase"), and Coinbase is not responsible for the content of any Third-Party Site, including without limitation any link contained in a Third-Party Site, or any changes or updates to a Third-Party Site. Coinbase is not responsible for webcasting or any other form of transmission received from any Third-Party Site. Coinbase is providing these links to you only as a convenience, and the inclusion of any link does not imply endorsement, approval or recommendation by Coinbase of the site or any association with its operators.
Crypto is a new type of asset. Besides potential day to day or hour to hour volatility, each crypto asset has unique features. Make sure you research and understand individual assets before you transact.
All images provided herein are by Coinbase.
---
was originally published in The Coinbase Blog on Medium, where people are continuing the conversation by highlighting and responding to this story.