Bitfinex mainly targets professional traders who have a lot of money to spend. The exchange no longer allows new users to sign-up unless they have more than 10.000 USD on the account. 
Creating an account at Bitfinex
Go to the Bitfinex website and navigate to the top right of the website to create an account.

Make sure everything is in order
Bitfinex only wants "real" legitimate traders on the exchange. You need to have a considerable bulk of funds at hand and walk-through a long verification process.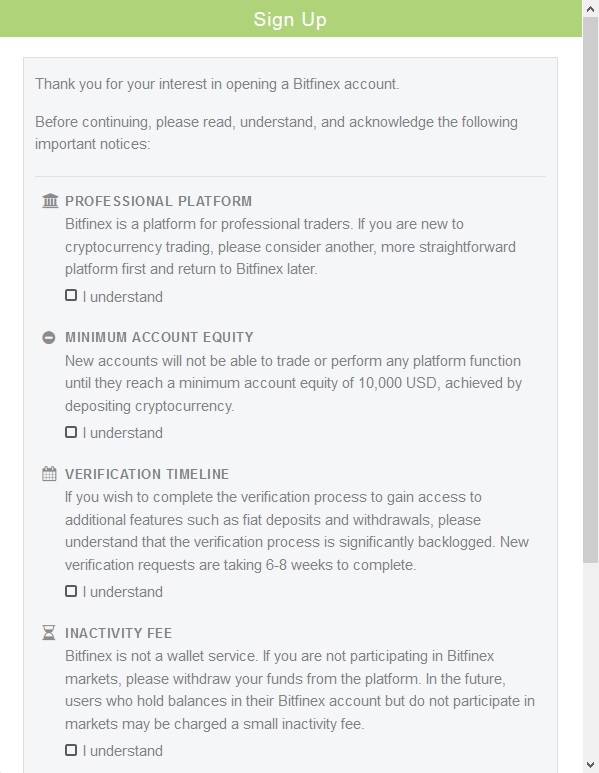 Going to the API creation screen
After walking through the process and accepting all the conditions you are good to go. Fund your account and link the API keys!
Navigate to the top right corner of your screen and mouse over the user icon. A drop-down menu will appear, from which you need to select "API".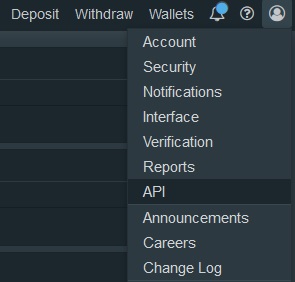 Generating the key
After navigating to the API creation screen, press "New key". 

Setting the permissions
Make sure that you set the permissions as follows:
Account Info: Read
Account History: Read
Orders: Read & Write
Margin Trading: Read
Margin Funding: Read
Wallets: Read & Write
Withdraw: Read
Do NOT give Cryptohopper Withdrawl rights. 
After creating the key, link it to your hopper and you should be good to go. 

Unable to see your exchange balance?
 There are several things that prevents your hopper from synchronizing the funds of your exchange. In most cases, the browser that you use has ''auto-fill'' enabled. This means that the browser fills in certain text fields themselves. There are three things you can do:
Disable autofill,
Use incognito mode of your browser
Use a browser that you don't use often.
Another thing that could prevent your hopper from synchronizing are password managers, disable this for Cryptohopper.
WARNING: when creating your API key at Bitfinex you will only be able to see it once. Make sure to write it down!
Happy Hopping!