In this tutorial, we are going to explain how you can link your Binance account to the hopper. Binance offers a 0.1% fee on all trades, making it the cheapest exchange we support on our platform (e.g. 0.15% - Poloniex / 0.25% - Coinbase Pro).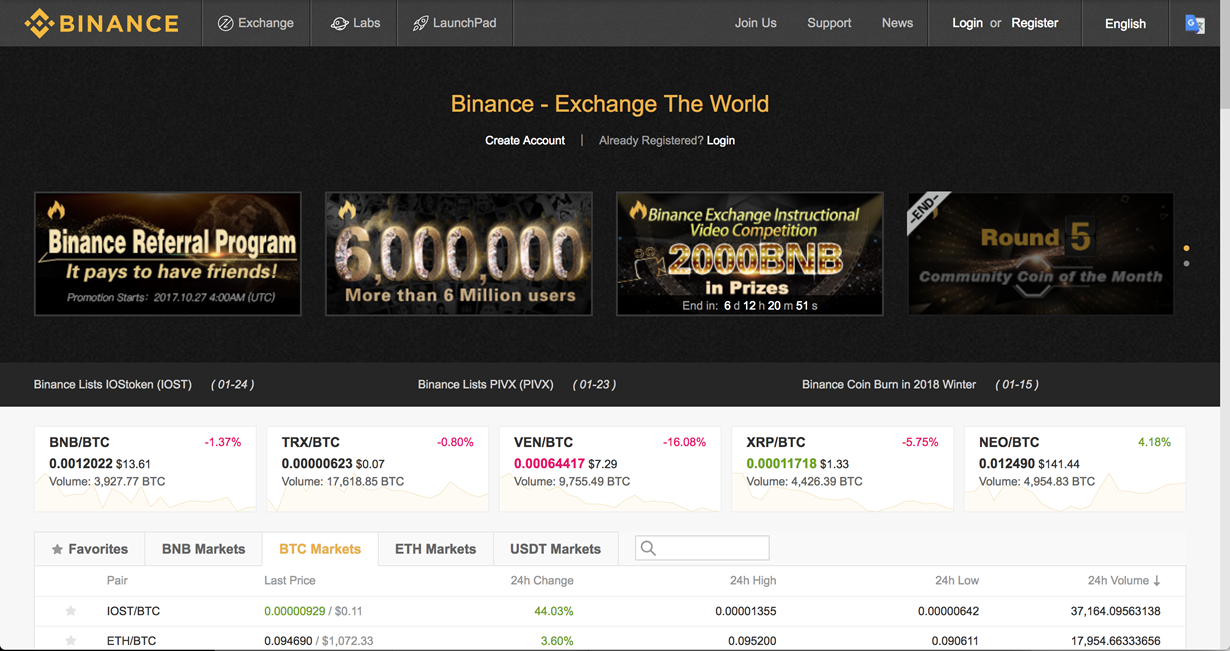 Create your account
Fill in the required fields.
Note that this account is where you will store your funds, so it's very important to choose a strong and reliable password.
You will receive an email with an activation link. Binance is rather strict with their verification rules, so you will have to verify your identity with a driver's license or passport,
as part of their effort to prevent money laundering through the exchange.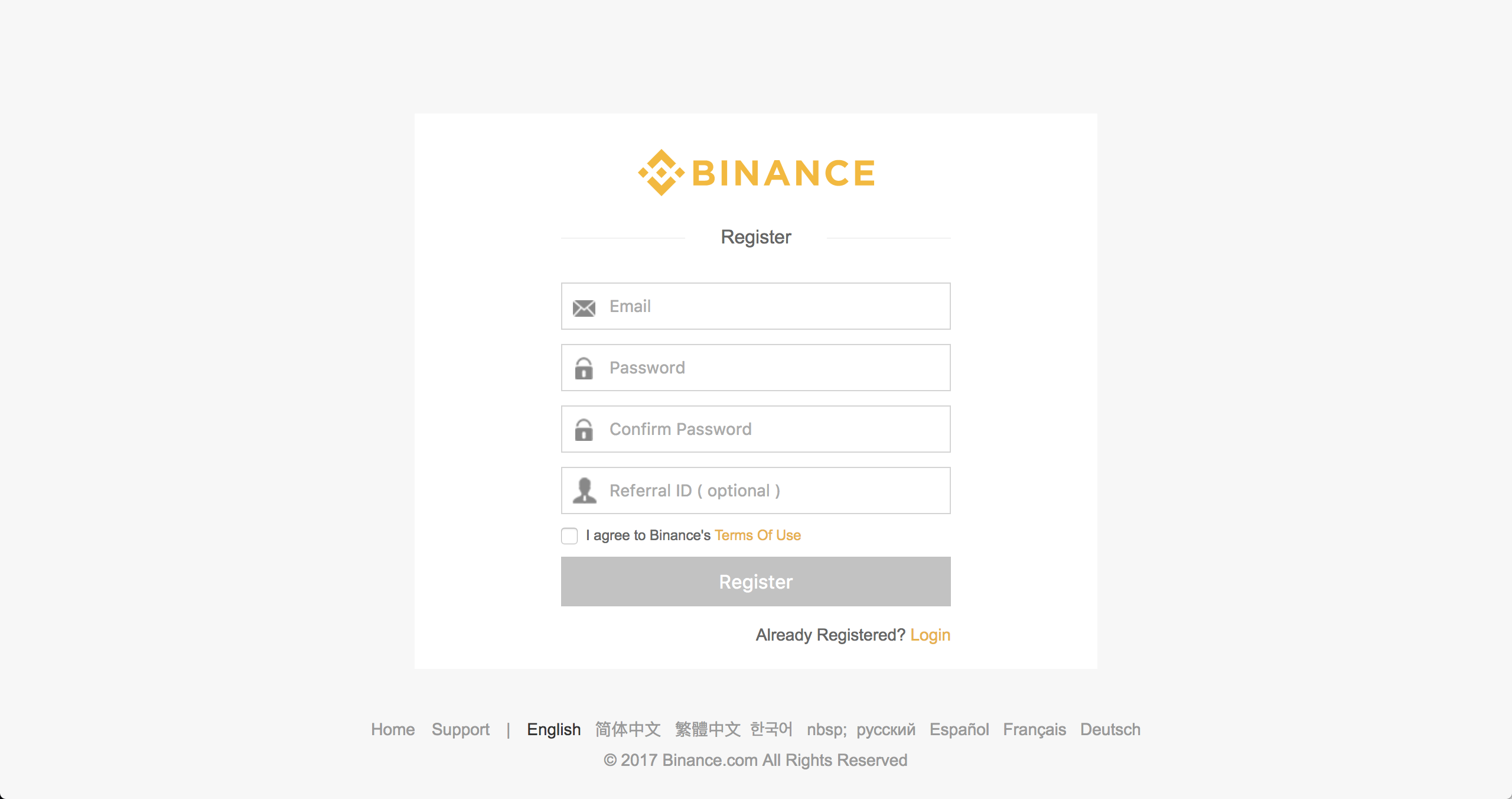 Deposit
Now that you've successfully created your account, the next step is to deposit your funds.
As shown at the top of the diagram, you can access the "Deposits" under the "Funds" tab.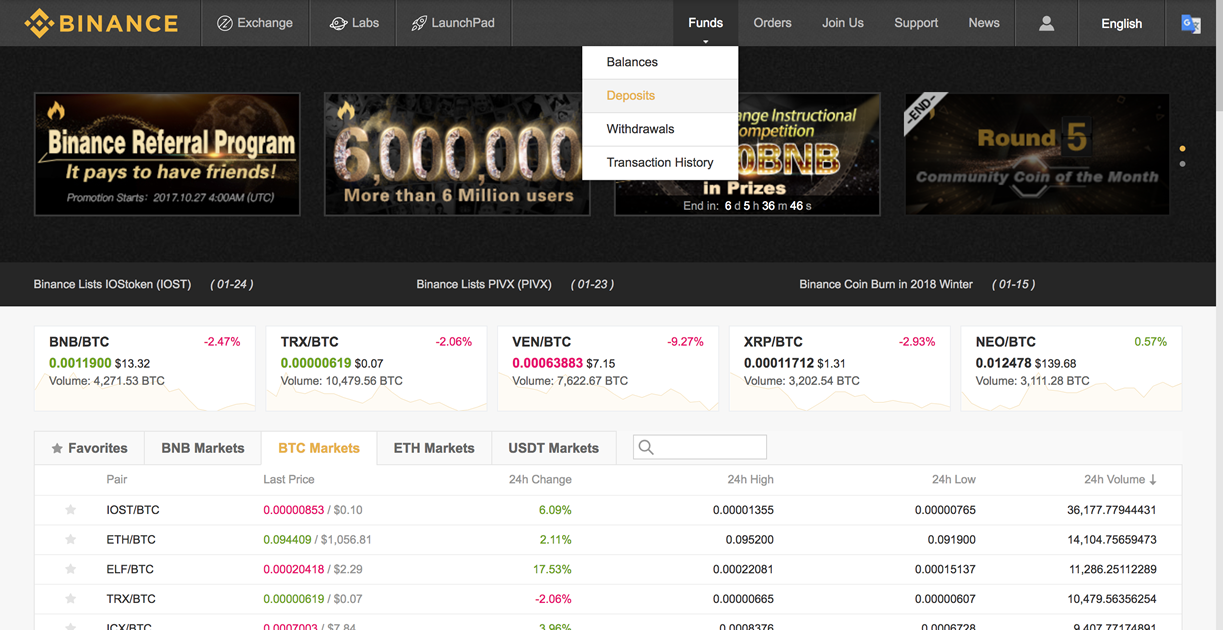 Deposit funds
This is where you make a deposit.
When doing so, double-check to ensure that you've correctly filled in all the required information!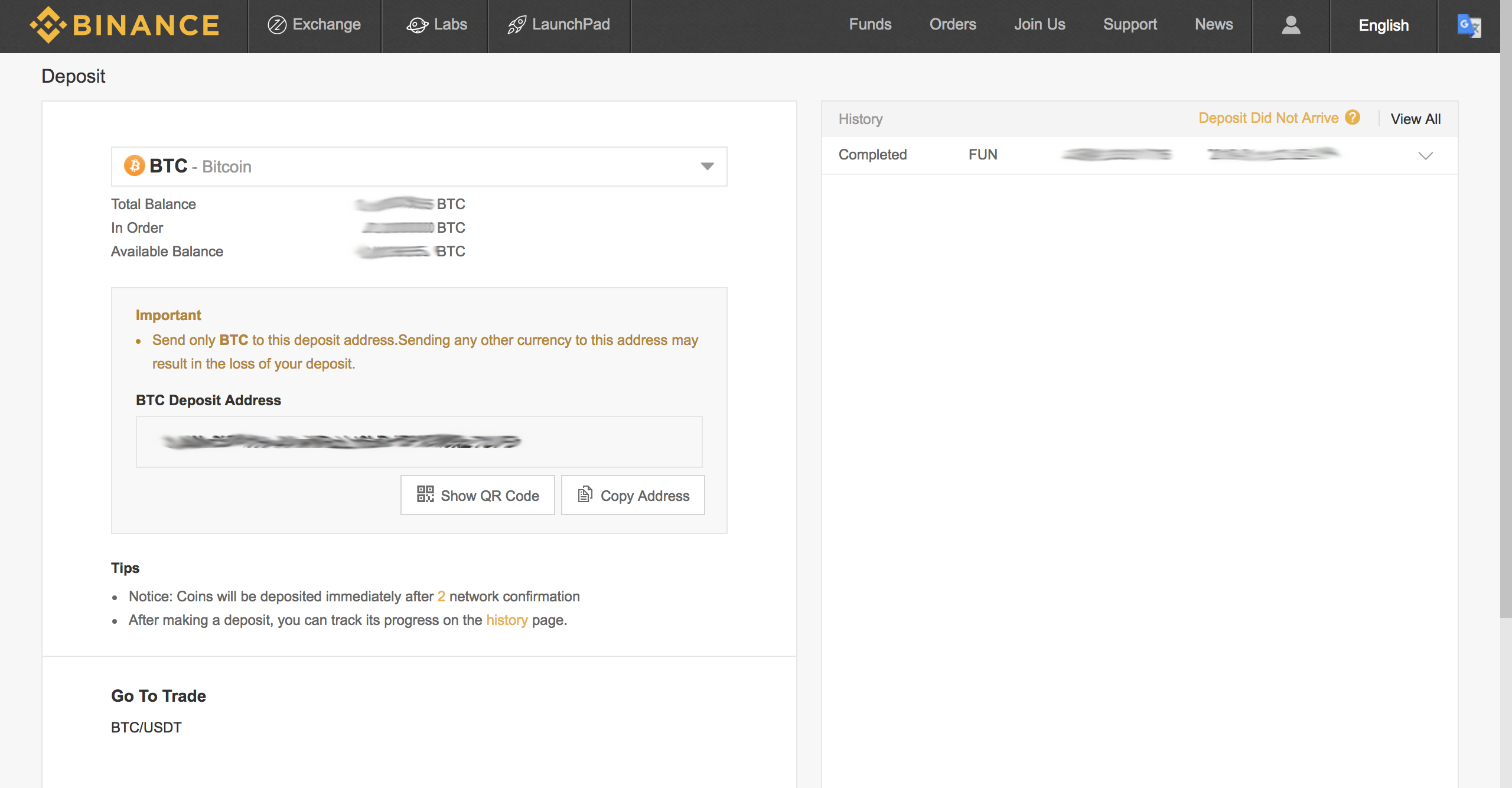 API Keys
The next step is to create an API key for your Hopper. With this key, your Hopper can trade on your behalf.
At the top right corner, you will find the profile icon. Click it to see your user profile. Then, you can access the API settings at the bottom left corner.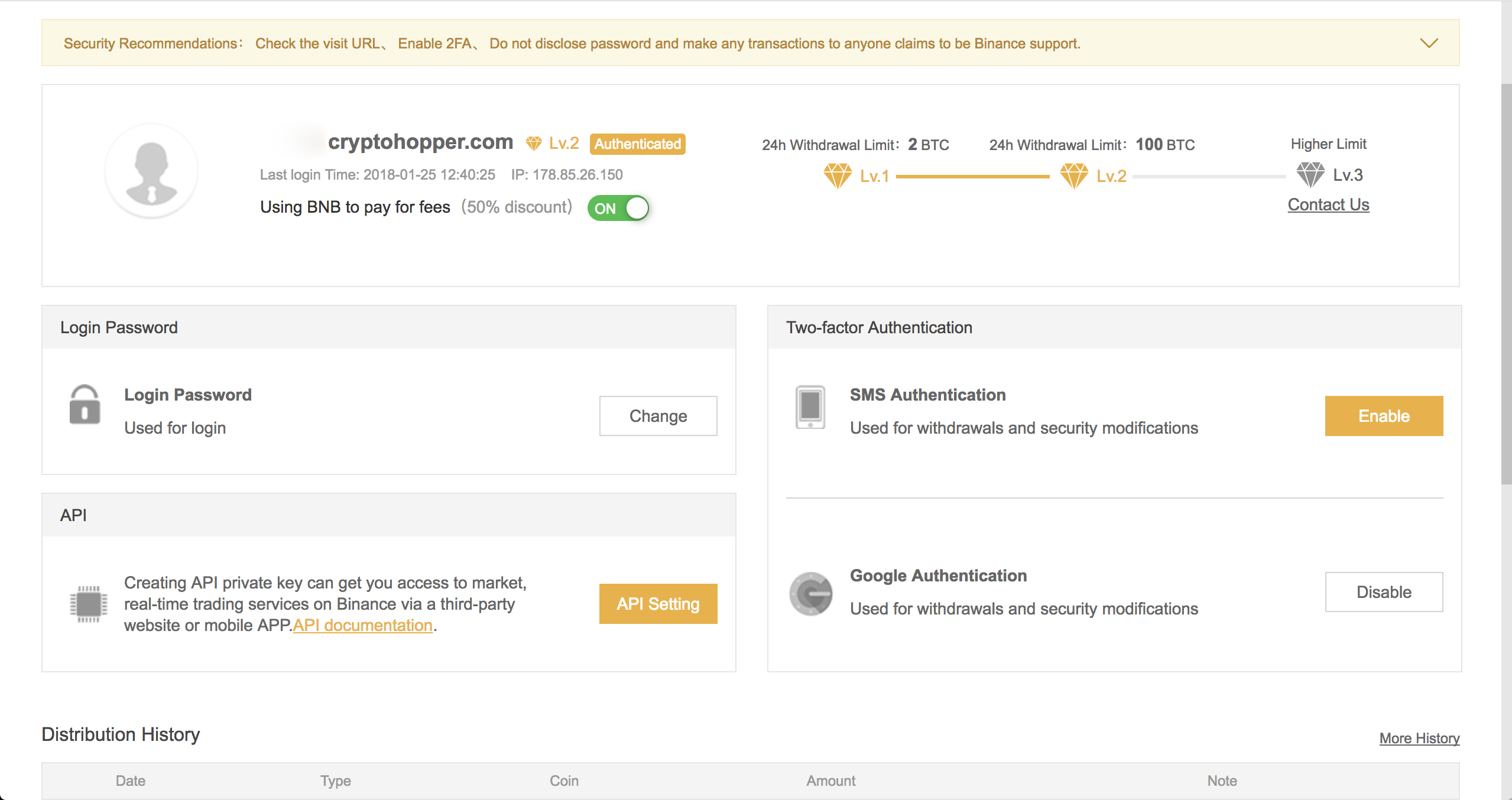 API Key settings
Copy the settings we have displayed in the provided image.
*IMPORTANT
We do not want the permission to transfer funds! We solely want to be able to view, trade and manage.
Click "Create API Key".
Your public and private key are shown at the bottom of the page.
We'll have to copy these keys into the configuration of your Hopper.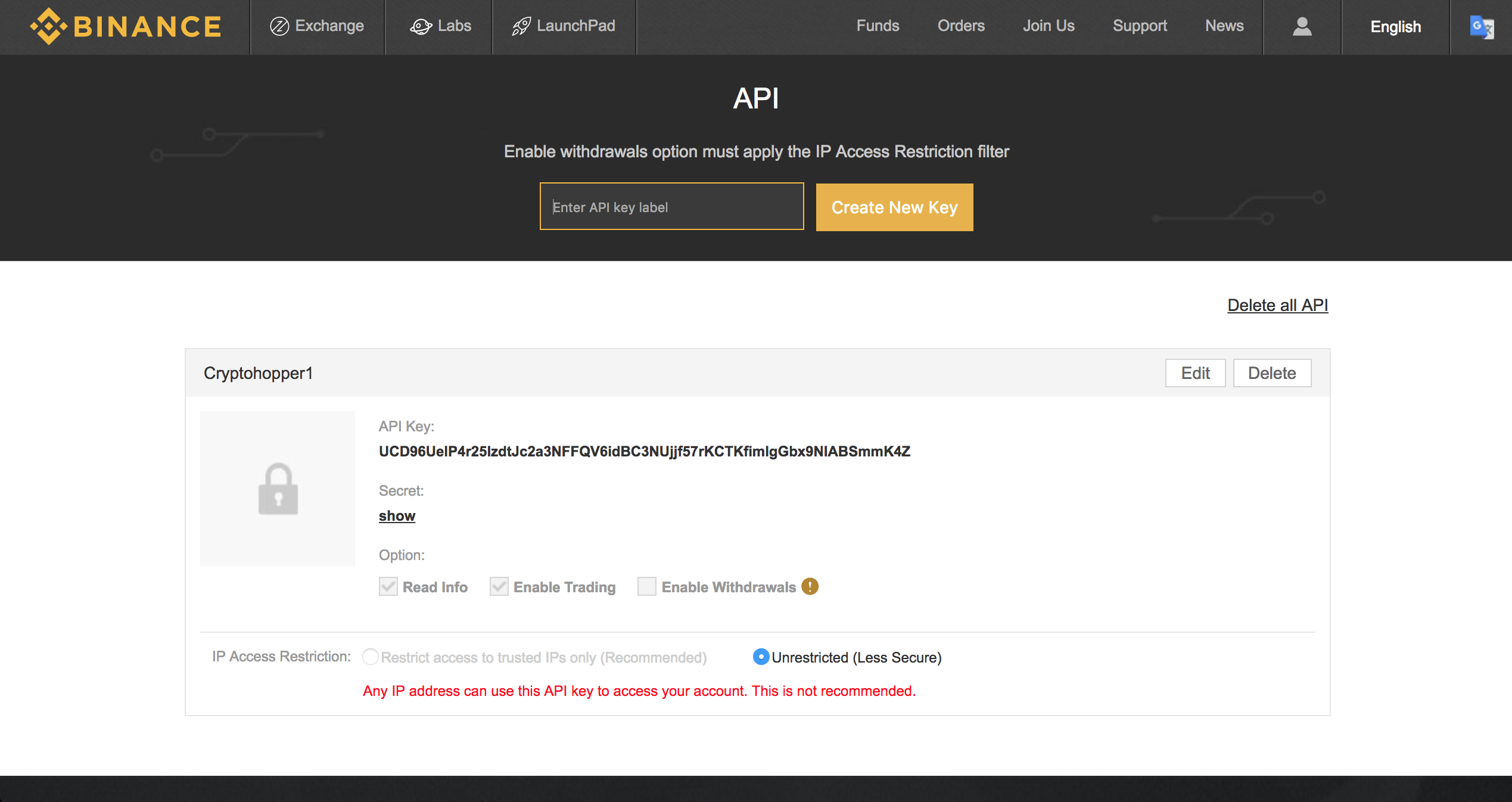 Configure your Hopper
Now that you've created your keys, it's time to configure your Hopper. Go to your Hopper's dashboard and click "Configuration".
Choose Binance as your exchange. Fill in your API key and your API secret key.
Click save.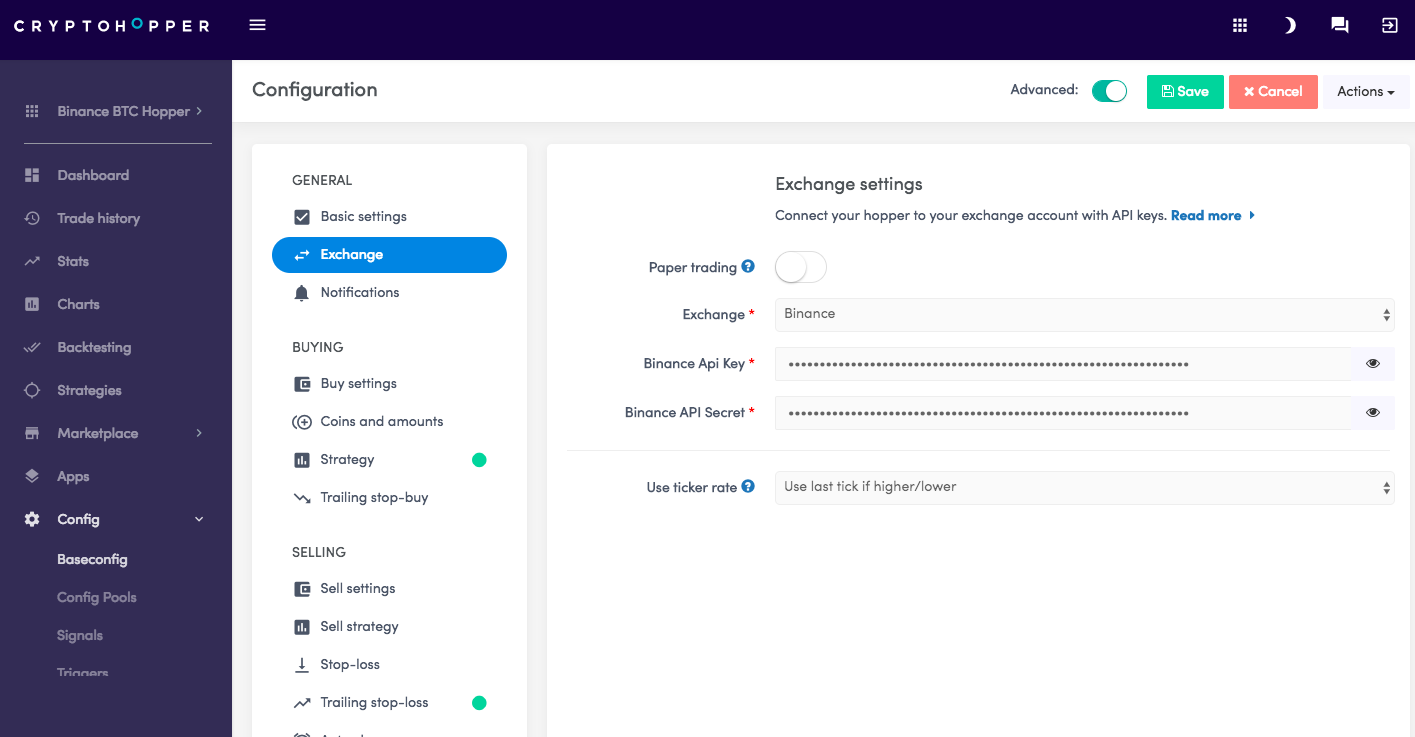 ---
Unable to see your exchange balance?
 There are several things that prevents your hopper from synchronizing the funds of your exchange. In most cases, the browser that you use has ''auto-fill'' enabled. This means that the browser fills in certain text fields themselves. There are three things you can do:
Disable autofill,
Use incognito mode of your browser
Use a browser that you don't use often.
Another thing that could prevent your hopper from synchronizing are password managers, disable this for Cryptohopper.
That'll be all! Check out our other tutorials/Academy and the community forum where users share their Hopper settings. If you want more information about this topic, watch our Cryptohopper Academy video. 
Happy Hopping!