Your first step to becoming a professional trader is to share your knowledge with other eager traders. Click here, apply to become a seller and get rewarded for your crypto acumen.
Once you are approved, your Cryptohopper sidebar menubar will get a slight update. Next, to the "Marketplace" button you will see a drop-down menu.
Here sellers can edit their profile, get an overview of templates and strategies and track their sales figures.
Edit Profile
In the edit profile section, you can adjust the contact details you have provided in the application.
It gives you a chance to update your description, personal details, and social media channels. You can also access your profile in the marketplace through the button in the top right corner.
---
Marketplace items
As a seller, you quickly oversee and navigate through your templates and strategies in this section. You can sort your offerings according to how recently they were modified, created and whether they are currently displayed in the marketplace.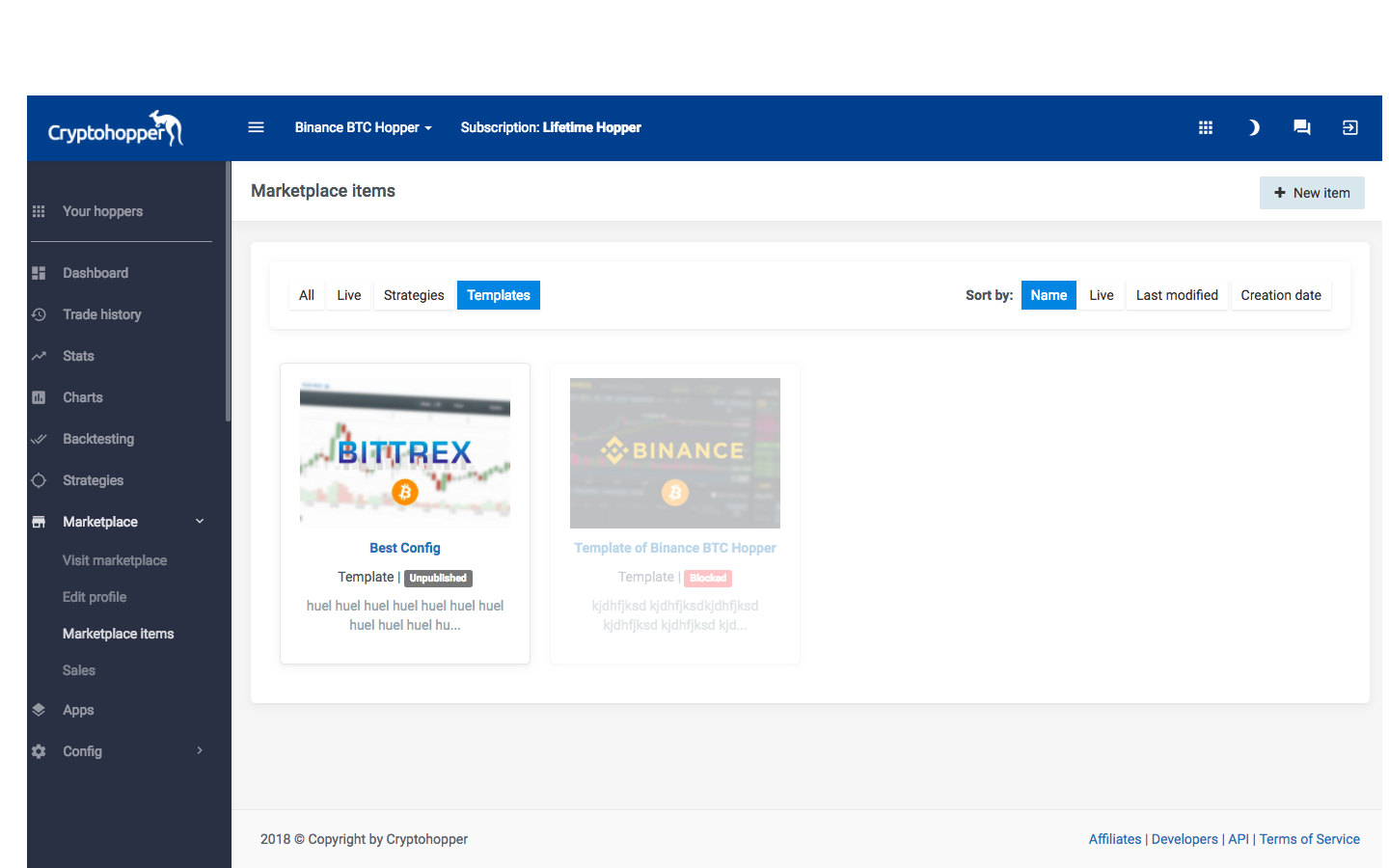 ---
New items
At the top right, you can follow the "new items" to create new offers in the marketplace. You can then choose between creating a template or a strategy.
When clicking on either option you will be asked to base your marketplace item on a strategy or template you have already created.
This means you should have either made a strategy under the "strategies" tab (follow the Strategy Designer) or saved a template in the "my templates" section. You will not be asked to configure an entirely new item in this process.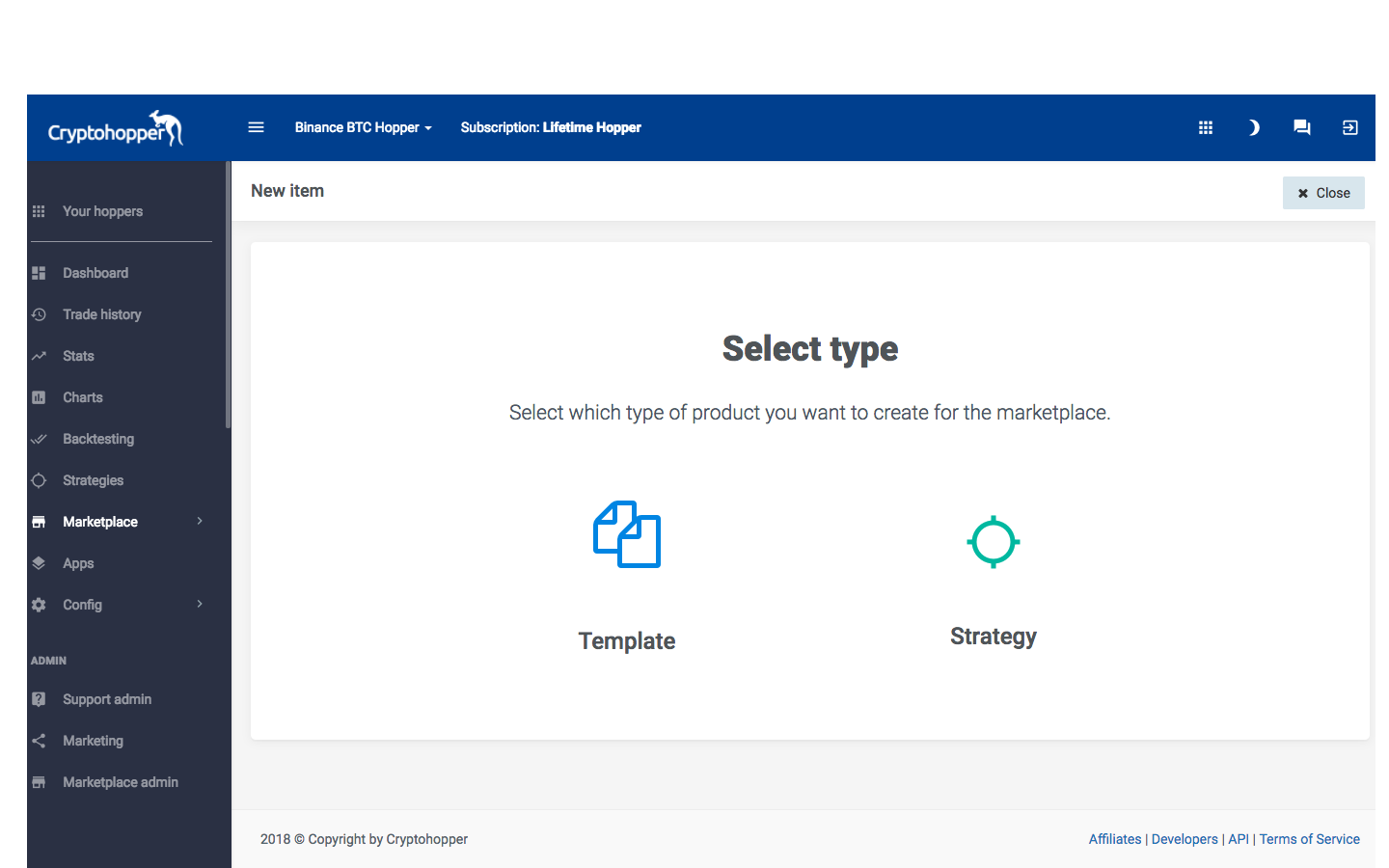 Select the strategy or template you want to use. You will be directed to the set-up menu. In the settings section, you can enable the item by clicking "live". This means it will be displayed to potential buyers. For strategies, you can choose, whether you want your subscribers to be able to see the contents of the strategy you are offering. This can be done via the "hidden configuration" button.
Choose a name and add a minimum 140-word description, explaining what kind of trading the item is intended for. You may also describe the contents of the strategy and how frequently you send updates.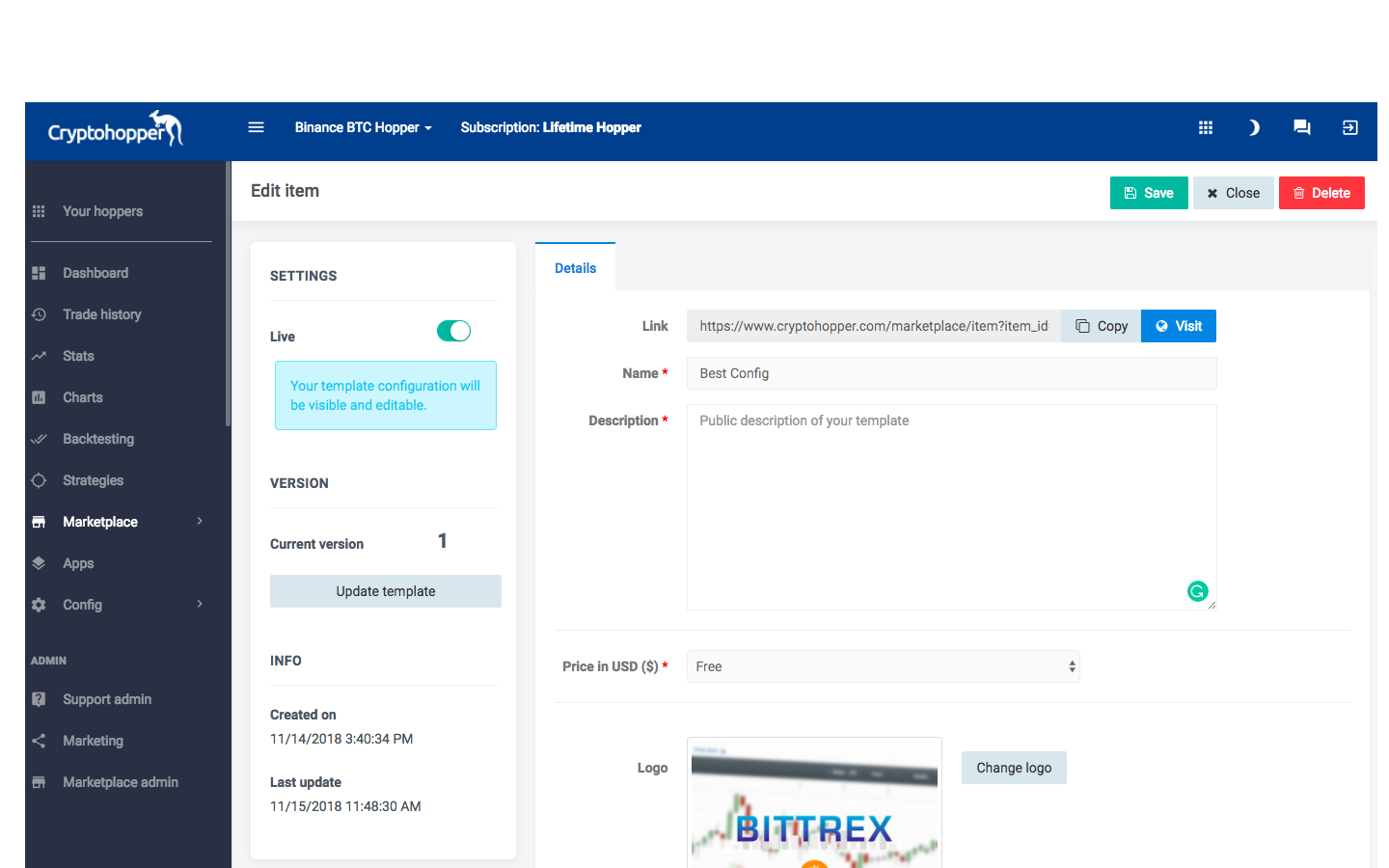 Next, you can set a price ranging from 0.99 to 99 Dollars and the subscription period for this price.
As items are shown in the marketplace with a "promo image" and a "logo", you are asked to add these. The mandatory sizes for these images are (1200px X 450px) and (600px X 430px) respectively.
You then have the option of adding social profiles. Click "save" and your strategy or template will be posted into the marketplace.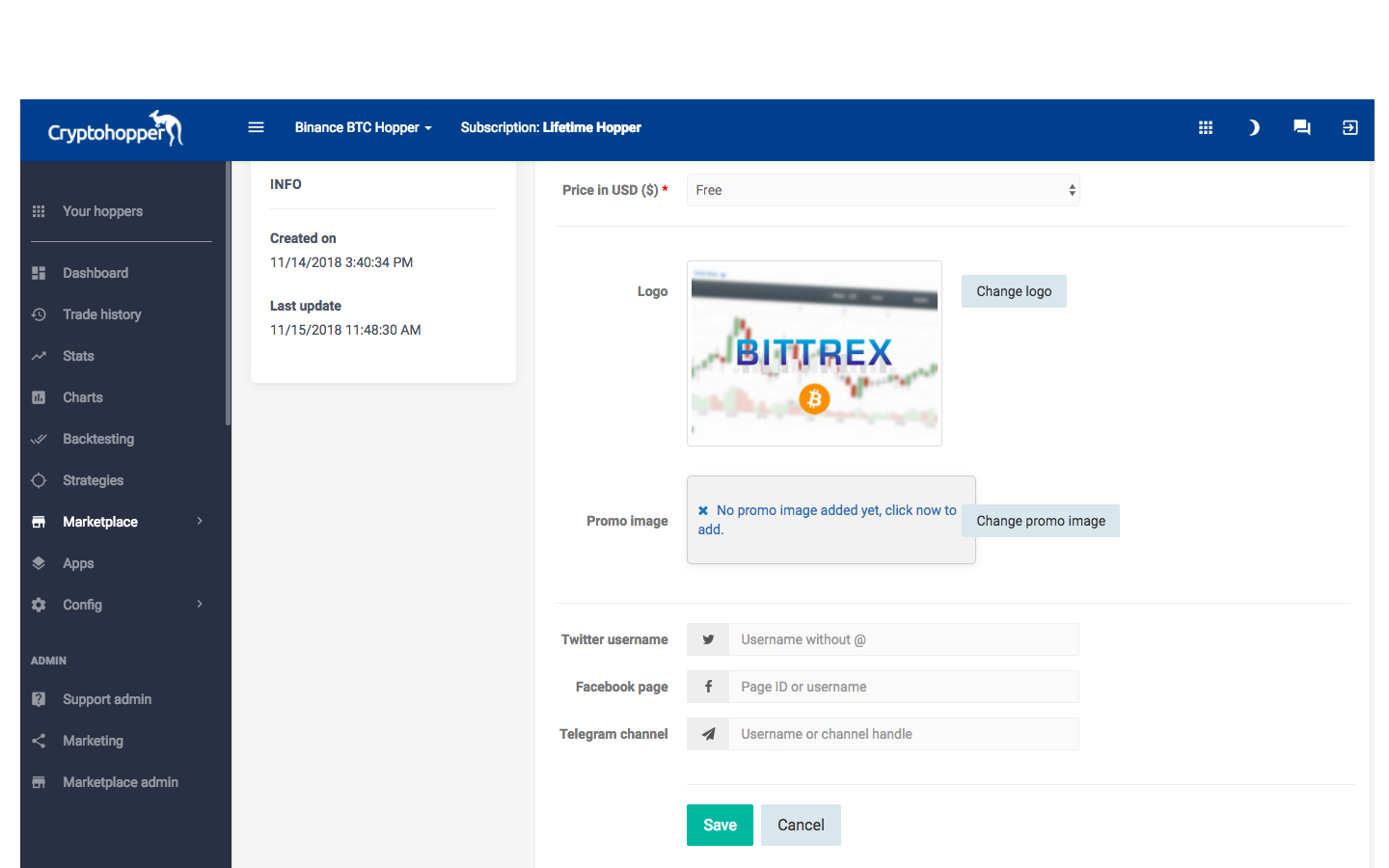 ---
Edit items
Naturally, even high-performing settings will lose their effectiveness when market conditions change. If you aspire to be a highly rated seller, we advise you update your strategies and templates.
Under "Marketplace items" you can edit your items. Click on the item to adjust descriptions, names, and images as well as the settings themselves.
You can update settings or create new strategy/template settings. (Note, that these changes will have to be made and saved separately in "Strategies" or "My Templates" section.)
Click on the "Update template/strategy" button. Select your updated new version of the template and strategy.
You will be asked to explain the adjustments you have made to create transparency with your subscriber base.
Once you click on save, the changes to a "live" item will be sent directly to your paying subscribers.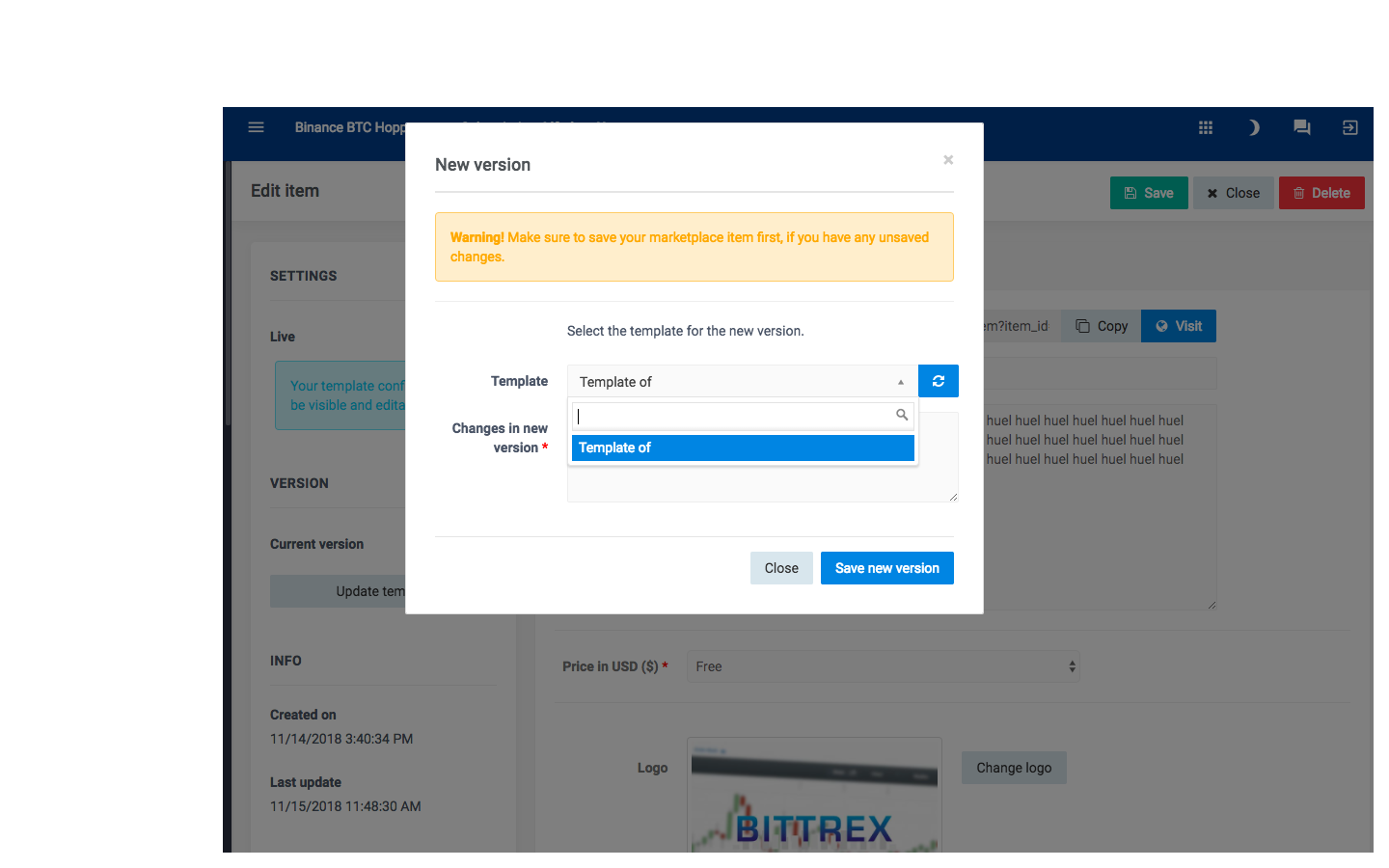 ---
Sales
Access the section to track your progress as a seller, in terms of total downloads, total sales, gross income, and total refunds. The provided graph displays your progress over the last 30 days.
---