Invite friends and earn Cash
Help grow the Cryptohopper community and earn Dollars or Bitcoin.
---
---
Why refer a friend to Cryptohopper?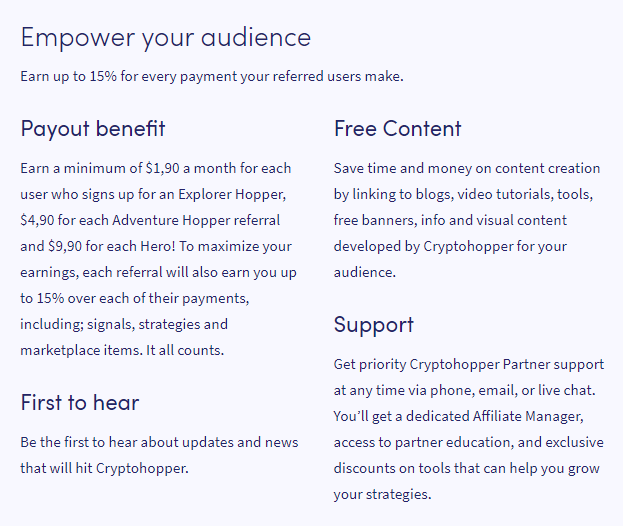 Referring a friend yields some nice benefits for you, you will help the community grow, help the company grow and help us improve!
How does referring a friend work?
There are several options and ways how you can refer your friends to join Cryptohopper
Referring via e-mail
Referring via Facebook
Referring via Twitter
Referring with your personal link
Following either of these methods will result in an affiliate being credited to your account, which in turn provides you with 10% of every purchase they make!

Are there more bonuses involved?
There certainly are, Since the refer-a-friend program converges with your affiliate payouts, you can actually "buy" your subscription with the funds that you got as a reward for referring! Do note that when using this program you automatically accept our affiliate terms and conditions, which can be found in our Afilliate terms and conditions
What if the referral didn't go through?
When referring make sure that your friend used your Referral link only, and it's the only one he used.
What to do if it still failed?
Gather your Referral ID
Confirm/screenshot that your friend got and used the link
Gather his payment data
After gathering all this information, send a ticket to our support staff, they will be happy to credit the referral to your account if everything checks out!
---
Happy referring!