Make Passive Income with Crypto Forks and Airdrops
The crypto market is going through a bearish phase, and many investors are looking for alternative ways to grow their digital assets. One of the techniques that have made investors interested is making passive income in digital assets, through methods like staking, NFTs, DeFi yield farming, etc. Other techniques, which are becoming increasingly popular in the crypto market, are forks and airdrops.
---
Airdrops and forks are the free distribution of tokens in the wallets of chosen users due to their active participation in a particular blockchain ecosystem. The rewards are also based on the amount you hold or contribute to a particular blockchain project.
In the crypto business, airdrops and forks are marketing strategies used to popularize blockchain-based projects or start-ups and promote their native token to gain more traffic for those virtual projects.
What are crypto airdrops?
Crypto airdrops, also known as token giveaways, are promotional stunts by blockchain companies to bootstrap new projects or to launch virtual currency projects. The airdrops are funded by the founders, co-founders, and developers of the project, and they announce the anticipated total number of airdropped tokens to maintain clarity and fair distribution among the users.
Airdrops are a great way to promote awareness and interest in a new project and to drive more people to trade it when they list their projects as ICOs (Initial Coin Offerings) to raise funds in crypto exchanges.
Airdrops are one of the easiest and risk-free ways to earn passive income. All you need to have is some basic knowledge of the cryptocurrency market.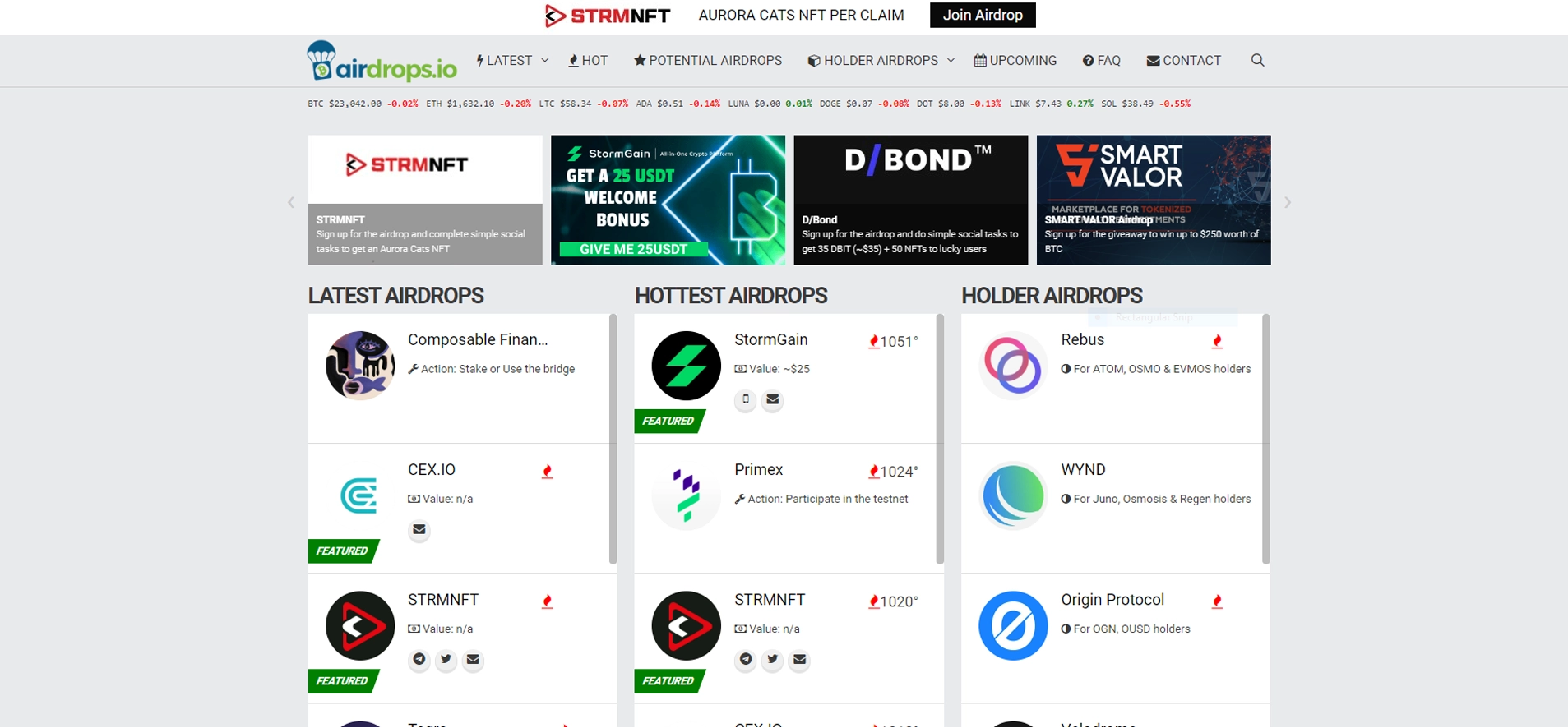 Early users and existing token holders are awarded in exchange for certain tasks such as:
Retweeting their posts or sharing them on social media platforms.

Using hashtags so that the posts go viral or reach a wider audience.

Completing a transaction through an exchange or wallet.

Following their accounts on social media.

Creating an account to receive feedback and updates.
Two types of crypto airdrops
1. Retroactive airdrops
Retroactive airdrops are announced by existing blockchain protocols to launch a native token and reward early users, supporters, and investors for their contribution and support to the project in the initial days. These free-to-earn tokens are distributed on the basis of their contribution to the project.
Retroactive airdrops involve projects that have already existed for some time. These airdrops provide liquidity and improve audience engagement in the project. Over time as the projects gain popularity, the prices of the new tokens increase significantly.
2. Takeover airdrops
Takeover airdrops are marketing tools used by DeFi protocols to entice customers away from competitors by providing them with greater rewards.
These airdrops are more aggressive compared to retroactive airdrops, because they aim to  attract liquidity providers from rival DeFi protocols and retain them so that they can provide liquidity to the project.
What is the purpose of crypto airdrops?
Crypto airdrops are promotional campaigns. The main purpose is to promote a blockchain protocol, start-up, or service, or launch a new native token and raise awareness among customers. An airdrop rewards customers and liquidity providers for their participation by offering a fair distribution of projects from the first day.
Crypto companies promote new launches on their social media pages and provide financial incentives like vouchers and discount codes to their existing customers for resharing or retweeting their posts and bringing in more people into the project.
As the tokens gain popularity through social media platforms, the token prices go up. Token holders can hold their tokens for a longer duration and sell them in the crypto exchanges when the prices go up. In this aspect, joining early in a token launch can be one of the best ways to earn passive income with a lower investment.
Advantages and disadvantages
The crypto market is extremely competitive, and airdrops at their core are marketing gimmicks. They create hype about the new launch of the project and attract more customers to invest in the project.
It is one of the simplest and most effective strategies to advertise a crypto project and earn the loyalty of existing users by distributing free tokens in exchange for their contribution to the project in the early days. It also generates interest among the users and this popularity can eventually be fruitful for the business and increase the price of the new tokens in the market.
Despite all the hype, many crypto experts believe that some crypto airdrops are just a pump & dump scheme, where the token is artificially inflated to attract customers. Also, distributing free tokens can dilute the token's market value and impact its price in the future. Many users re-sell the tokens immediately after receiving them instead of waiting for their price to rise in the future. As with any other investment,  it is important to do your research and have a strategy in place.
What are crypto hard forks?
Blockchain protocols like Bitcoin and Ethereum are open-source software with a chain of blocks where community members contribute, maintain, and develop the underlying code. Anyone can change the codes or update the software in the blockchain.
Forks occur when a community member(s) changes the blockchain protocol or changes the basic set of rules. It may happen if the community is dissatisfied with the existing protocol. Fork splits the blockchain into two versions.
Forks generally occur to introduce or create a new token, and there are two types of forks:
Soft fork - These forks are a software up-gradation of the blockchain protocol. Soft forks add new features or functionalities to an existing token. If it is unanimously adopted by all the community members, then it is compatible with the pre-fork blocks and there is no need for a split in the blockchain. As a result, there is only a single blockchain.

Hard fork - These forks happen when the code is changed entirely and it is no longer compatible with the pre-forked blocks. As a result, the blockchain is divided into two versions with new rules. Hard fork creates an entirely new token with new features based on the source token. Examples of hard forks Bitcoin Gold and Bitcoin Cash, which stemmed from Bitcoind. Another good example is Ethereum Classic, which originated from its mother token Ethereum.
Hard fork advantages and disadvantages
Hard forks add new functions to the blockchain protocol without changing the original blockchain. This is extremely beneficial, especially if the blockchain ecosystem has a wide range of users who would not appreciate vast changes in the features of the original blockchain.
Hard forks can improve network speed and transaction process and also enhance the overall security of the network. Hard fork tokens are distributed among their token holders who can sell them immediately or maximize their profits by holding them for the long-term and selling them when the prices appreciate in the future.
Since hard forks are created by splitting the blockchain protocols, they may compromise the network security and can be susceptible to malicious attacks. The distribution of free tokens can also bring volatility to the price of the new tokens. These attacks can be detrimental to the reputation of the blockchain protocol, the new tokens, and the source tokens. So, it is always important that developers take adequate precautionary measures and chalk out plans that can make credible improvements to the network.
Bottom line
Airdrops and hard forks are some of the safest and coolest ways to earn passive income. Keep note of exchanges and wallets that support these airdrops and hard forks. Keep track of the latest developments and news and keep away from scams and false promises.